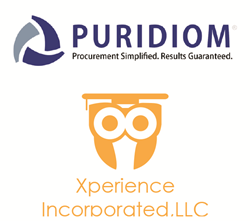 Private schools are looking for ways to control spend, reduce costs and even turn a profit.
Camp Hill, PA (PRWEB) June 21, 2016
Puridiom, a leading procure-to-pay solution and service provider has teamed with Xperience Inc, a mid-market procurement-consulting firm, to provide spend improvement services and cost reduction programs to private and faith-based schools.
Xperience Inc. and Puridiom are solving the problem of increasing tuitions and declining enrollments for private and faith-based schools by showing them how to manage controllable spend such as school supplies, janitorial services, uniforms and more. Xperience Inc has created thesis™ (The Spend Improvement Service) a customizable program of analysis, supplier networks with preferred pricing, compliance and monitoring, and fundraising revenue opportunities help schools to dramatically reduce costs.
Puridiom complements the program by providing procurement technology to manage and control spend, increase spend visibility and improve compliance.
"Private schools are looking for ways to control spend, reduce costs and even turn a profit," says Dennis Toohey, Principal, Xperience Inc. "We have developed a program that will lower the cost of what they buy, align departments, eliminate paperwork and establish an auditable process that works."
"Once the program is in place, we want to keep improving savings," says Jesus Ramos, President of Puridiom. "With procurement technology, spend can be monitored and controlled. Visibility into spend can provide valuable information that can lead to even more savings opportunities for these schools."
Xperience Inc has been introducing this program at educational conferences, including NAIS (National Association for Independent Schools) and NCEA (National Catholic Educational Association). Feedback has been positive and both Puridiom and Xperience Inc anticipate interest to grow as more schools begin to implement the program.
More information about this program can be found on the Xperience Inc website.
About Puridiom
Puridiom, a leading procure-to-pay solution provider, offers a holistic and collaborative approach to cost control. Puridiom offers a comprehensive procure-to-pay suite, as well as stand-alone procurement and AP modules, both in a cloud and on premise deployment platforms. However, it is the Puridiom Procurement as a Service program that enables organizations to generate savings from all areas of spend under one unified program while improving your profits and competitive advantage. Discover real savings with Puridiom.
About Xperience Inc
Xperience Inc is a mid-market procurement consulting firm specializing in buy-to-pay processes for businesses and schools. With over 30 years in procurement, as an industry professional, thought leader and technology insider, Xperience Inc can quickly assess your company's buying/paying processes and recommend proven methods to increase savings and improve profit. Xperience Inc has also recognized the need for private and faith-based schools to control and monitor spend to improve savings and has specialized programs available specifically addressing their unique needs.