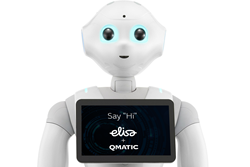 By integrating Pepper with our Orchestra platform, we [Qmatic] can enable personal and meaningful engagements with customers.
Mölndal, Sweden (PRWEB) June 14, 2016
Qmatic, a global leader in customer journey technology and insights, and Elisa, a telecommunication, ICT and online service provider, today announced the first use of a humanoid robot as part of an integrated customer journey platform to serve customers in an active retail environment at the opening of Elisa's new flagship store in Helsinki, Finland.
As a certified partner of SoftBank Robotics Europe, Qmatic integrated Pepper, the world's first personal robot that recognizes main emotions, with Orchestra, its market leading customer journey management platform for seamless and personal engagements. This created an innovative in-store engagement point for Elisa that can interact with customers in a personalized and dynamic way. Supplementing Elisa's employees who personally greet customers and direct them to the appropriate staff member for service, Pepper plays a specific role in fulfilling the click and collect process, where customers have purchased an item online and visited the store to collect it.
Qmatic's Orchestra platform helps ensure the customer's experience from online purchase to product pickup is seamless. Upon arrival at the store, the customer will be able to interact with Pepper and get help to check in for service using information provided during the online purchase confirmation. Pepper relays that information to a store associate who then delivers the product to the customer. The Pepper interaction engages the customer personally and advances the brand reputation in a way static solutions can't.
"We specialize in delivering cohesive and personalized customer journeys. By integrating Pepper with our Orchestra platform, we're able to enhance the customer journey and enable personal and meaningful engagements with customers" said Sven-Olof Husmark, vice president and CMO of Qmatic Group. "And the data gathered from those engagements – including with the robot – provide analytics that identify opportunities for continual refinement of the customer experience".
Orchestra is delivered in Finland by Qmatic's long standing partner Intermarketing.
"We're excited to bring this new dimension of customer experience into our flagship store, which is really a completely new service environment for us. We see Pepper as more than just a robot. She is part of our customer service staff and adds value to the smooth customer journey for our click and collect customers. She also provides significantly greater insight into customer behavior that allow us to understand the real impact of and potential for Pepper in this environment." says Tiina Kuusisto, Elisa's vice president of consumer business marketing, customer relations and online sales.
About Elisa
Elisa is a telecommunications, ICT and online service company serving 2.3 million consumer, corporate and public administration organisation customers. Elisa provides environmentally sustainable services for communication and entertainment, and tools for improving operating methods and productivity of organisations. In Finland Elisa is the market leader in mobile subscriptions. Cooperation with Vodafone and Telenor enables globally competitive services. Elisa is listed on Nasdaq Helsinki Large Cap with over 200 000 shareholders. Elisa's revenue in 2015 was 1.57 billion euros and it employed 4,100 people.
About Qmatic
Qmatic Group leads the market in customer journey technology solutions. For more than 30 years, we have helped public and private organizations create remarkable customer experiences with software and hardware solutions that seamlessly manage online and onsite engagement points. Our integrated enterprise platform and analytics provide the insights to better orchestrate customer interactions, offer timely promotions, and optimize staff and resource planning. Qmatic enable 1.8 billion customer journeys every year and operate in more than 120 countries with global headquarters in Sweden and a leading presence in North America.
About SoftBank Robotics Europe
Leader in humanoid robotics, SoftBank Robotics Europe (SBRE) is headquartered in Paris and regroups 400 employees. Creator of the robots NAO, Pepper and Romeo, used today in more than 70 countries worldwide, in various fields, such as research, education, retail, healthcare, tourism, hospitality or entertainment, SoftBank Robotics Europe is a subsidiary of SoftBank Robotics Holdings Corp.