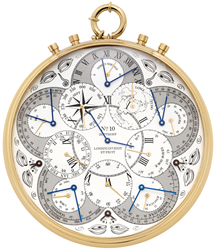 (PRWEB UK) 15 June 2016
emagine, the financial technology specialists, have partnered with Hoptroff London, maker of world's most accurate timepieces, to market a unique self-contained solution for financial institutions that need to demonstrate high levels of consistency, traceability and granularity against Coordinated Universal Time (UTC).
With industry-leading accuracy of up to 10s of nanoseconds, HoptroffTime™ distributes synchronised time to enable end-to-end timestamping of trade flows. The solution combines hyper-accurate atomic 'grandmaster clocks' with patent-pending software that automatically corrects for latency right through to application level. HoptroffTime™ has built-in redundancy features, ultra-low power credit-card sized colocation solutions, and does not normally require upgrades to existing infrastructure and networks.
A HoptroffTime™ installation comfortably exceeds MiFID II RTS-25 reporting and forensics requirements. It is a powerful tool for defining, comparing and masking the organisation's latency profile; identifying when others seek to exploit that profile; and generating data insights that support marketing to clients, regulatory compliance, and robust defense against disputes.
The solution is the result of intensive research, testing and benchmarking by Hoptroff London – founded by physicist Richard Hoptroff, and developer of the world's most accurate atomic timepieces for consumer markets. For the financial sector, it is licensed exclusively through emagine.
Alex Visram, managing director of emagine UK, said: "Banks will soon have to comply with MiFID II regulations that require them to timestamp events accurately against UTC to an appropriate level of granularity. Most will typically have to carry out extensive network and infrastructure upgrades, analyse and correct for time drift, and purchase highly accurate grandmaster clocks to reliably provide precise reference time.
"HoptroffTime™ is an all-in-one software and hardware package that can avoid costly upgrades and expensive additional co-located rack space; we have credit-card sized clocks that sit inside the server itself for when power and space are at a premium."
Richard Hoptroff, founder of Hoptroff London, added: "Our atomic timepieces use chip scale atomic clock technology developed for the defense industry. In each unit is a small vessel of Caesium 133, an oven to heat it to 105°C, a laser to excite the atoms and a microwave resonator that resonates at the hyperfine transition frequency of the atoms. The resulting grandmaster has an accuracy of one second every thousand years even before disciplining to UTC.
"We were the first timekeeping company to develop products specifically to address the unique requirements of timestamping for the financial industry, by developing an end-to-end solution that integrates hardware and software. ."
More information
http://www.emagine.org/uk/our-solutions/business-consulting/timestamping.html
Ian Gough
emagine UK
+44 207 041 1000
ian.gough(at)emagine.co(dot)uk
About emagine
emagine is an independent technology consultancy with 30 years' specialist banking experience. Formerly the internal technologists for one of the world's leading merchant banks, its heritage continues to give it a clear view of clients' business objectives. Emagine operates in 24 countries and has revenues of €93m (2015). http://www.emagine.org/uk
About Hoptroff London
Hoptroff London – founded by physicist and serial entrepreneur Richard Hoptroff – has developed the world's most accurate atomic timepieces. http://www.hoptroff.com/