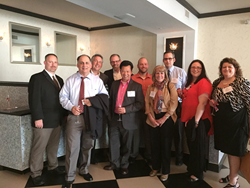 "It's an absolute honor to have our processes and production validated by our peers and to achieve such category success in all we do for our customers."
Lancaster and Reading, PA (PRWEB) June 15, 2016
At this year's annual Neographics Power of Print Competition in Philadelphia, The Standard Group had a remarkable repeat performance. Competing against hundreds of entries from printing and graphic firms throughout Pennsylvania, New Jersey and Delaware, The Standard Group received top recognition in 10 Best of Categories as well as with 12 Franklin Awards for Excellence. The Best of Categories include:

Best of Category for Catalogs up to 32 pages, 4+ Colors
Best of Category for Cross-Media Marketing
Best of Category for Digital Printing: Variable Data
Best of Category for Directories & Source Books
Best of Category for Foil Stamping Embossing/Debossing
Best of Category for Printer's Self-Promotion: Campaign
Best of Category for Books – Soft Cover
Best of Category for Broadsides
Best of Category for Announcements, 4+ Colors
Best of Category for Invitations, 4+ Colors
"Every year, we compete in this tri-county Neographics competition as a way to highlight the talent behind our diversely-geared customers and their creative use of print," said Scott Reighard, COO for The Standard Group. "We are so appreciative to have won 10 Best of Category Awards based on what stands out distinctly about the unique business drive behind our customers, and we are very proud of our production team's achievement stemming from these projects. We attribute honor of this kind to working collaboratively with our customers but also to the high-end production quality of our precise G7 color and print management process."
"Our goal is to provide excellent print and marketing logistics for our marketing and agency partners," said Scott Vaughn, The Standard Group's CEO. He continued, "It's an absolute honor to have our processes and production validated by our peers and to achieve such category success in all we do for our customers."
About Neographics:
The Neographics 2016 Power of Print Competition is one of the nation's largest regional graphic communications contests. Hosted by the Graphic Arts Association based in Philadelphia, it reviews graphic arts, packaging, converting, design and publishing excellence to showcase annually. The Neographics is a contest dedicated to recognizing and rewarding the highest level of quality and service within the print industry. The call for entries is sent to more than 6,000 companies, including printing and graphic firms throughout Pennsylvania, New Jersey and Delaware. Submission review spans across several days by teams of judges. They look at number of colors, press size and printing process in order to determine winners for overall design, successful completion, prepress preparation and finishing. The Neographics' winners are finally selected and recognized based on quality, service and the finished product as well as how a particular job fulfills its intended goal.
About The Standard Group: 
The Standard Group is a premier print management and marketing logistics company. We simplify the art of communication for our customers by understanding their business in-depth and delivering the right message to the marketplace. We partner with our customers to streamline and automate processes, facilitate ordering, improve quality, manage inventory and reduce obsolescence. By leveraging innovative workflow technologies, we execute multi-channel communication strategies to reach audience, drive engagement, increase revenue, reduce cost and raise compliance. Our award-winning solutions with digital and print communication, personalized 1:1 messaging, online ordering and marketing automation serve a unique and varied client base, ranging from small non-profit organizations to large Fortune 500 companies. For more information on The Standard Group, visit http://www.standardgroup.com.