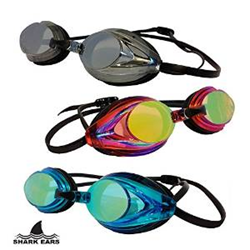 These goggles are anti-fog, which allow the user to see with amazing definition and clarity underwater and above.
(PRWEB) June 14, 2016
The SoSoft brand focuses on producing consumer centered healthy home, body, and lifestyle products. These include items such as soaps/creams, swimwear and laundry related products.
Due to the overwhelming demand for SoSoft's Shark Ears and Shark Ears Ear Plugs, that have been a staple in the SoSoft line up, SoSoft is pleased to announce the introduction of a brand new product, the Shark Ears Mirror Coated Swimming Goggles. These goggles are anti-fog, which allow the user to see with amazing definition and clarity underwater and above. This is a great feature to have if spending a lot of time coming in and out of the pool, as the goggles won't fog up and force the wearer to constantly have to clean them off.
The goggles come with a stylish and functional mirrored, shatterproof lens. When lenses are mirrored, they greatly improve the protection from harmful UV rays during the peak summer months. The durability that comes from having shatterproof lenses is something that every user will appreciate when they inevitably drop them on the ground. The shatter proofing comes from the Polycarbonate lenses which offer maximum strength.
The goggles are offered in different colors blue, pink, and silver, so there is sure to be at least one pair that catches someone's eye. While many goggles do not offer a case with each pair, SoSoft includes a free protective case that come with every pair of Shark Ears. The case comes complete with a twist lock that can be converted to a lanyard that the user can their wear for ease of travel. SoSoft also includes a complimentary pair of their high quality Silicone Ear Plugs. These are great for swimmers who are constantly getting water lodged in their ears after swimming for a long period of time.
Also included are interchangeable nose pieces to make sure that the pair of Shark Ears Swimming Goggles fits comfortable on a variety of different face types. It comes with three different size nose pieces (small, medium, and large) and yet another example of how customer satisfaction is SoSoft's number one priority. All of these traits together make these goggles a versatile pair for everyone from the occasional recreational swimmer, to the competitive swimmer. Everyone will be able to appreciate these comfortable, adaptable goggles.
The Shark Ears Mirror Coated Swimming Goggles, are available for purchase exclusively through SoSoftbrands.com and Amazon. SoSoft brand's primary facility is located in Westchester, NY and it specializes in the production of health products for the consumer, making items like swimwear and soaps/creams.