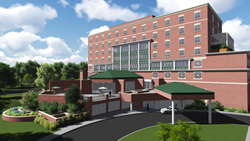 Falls Church, VA (PRWEB) June 15, 2016
Greenfield Senior Living has been contracted by Healthcare Development Partners (HDP) out of Chicago, IL to operate 65 assisted living and memory care units in the former Winchester Memorial Hospital on Cork Street in Winchester, VA. The former hospital currently houses inpatient/outpatient rehab services provided by Valley Health System, as well as hospice care provided by Blue Ridge Hospice. This crown jewel in the city of Winchester will soon be the quintessential resource for all things senior by providing a full continuum of health services in a warm, welcoming, state-of-the-art environment for those in Winchester and the surrounding Shenandoah Valley.
"This mixture of services will bring a better quality of life for those that call West Cork Street home and their families. It's our goal to provide the community with the highest quality services on a legendary scale, and to be that dependable and trustworthy resource that seniors deserve," said Todd Bryant, President and CEO of HDP.
The former Winchester Memorial Hospital which was built in the 1960's remains a historic building in the Winchester community. While the interior of the hospital will undergo construction renovations, the historic and significant presence of the building will be honored and respected by all parties involved. The architectural firm responsible for the renovations is Proteus Group based out of Chicago, IL. Other key players include Hallock Design Group from Miami, FL, Durham Construction based out of Potomac, MD, and the current property manager, Lincoln Property Company, based out of Herndon, VA. The building owner, HDP, is working with local agencies to ensure the renovations are in full compliance with all city and state building and fire codes.
Greenfield plans to open an information center on the Old Town Winchester Pedestrian Mall at 3 South Loudoun Street this June. This store front will provide insight into the progress of the renovations and services to be provided all the while welcoming the charm of Old Town and embracing all it has to offer. Construction renovations at 333 West Cork Street will begin shortly thereafter with an anticipated grand re-opening in spring 2017.
About Greenfield Senior Living
The Greenfield Senior Living Mission: By building bridges between communities, we transform the experience of senior living and allow our residents to lead full and enriching lives. Through superior outcomes in resident care, exceptional dining experiences and unique social and recreational programs, Greenfield Senior Living out of Falls Church, Virginia has transformed senior living in each of its communities. Greenfield offers "best in class" independent living, assisted living, personal care and memory care programs. We take privilege in the opportunity to make a difference in the lives of our extended family. Integrity is the heartbeat of our organization, ensuring our residents and care teams are always treated with respect and dignity. As of May 2016, Greenfield is entrusted to care for over 1,200 residents throughout 6 states, and employs roughly 1,100 employees who passionately share the Greenfield mission and core values.
Visit our website at http://www.greenfieldseniorliving.com
For further information, please contact:
Kevin Hunter
Vice President of Operations
Greenfield Senior Living Inc.
Phone: 917-494-6121
khunter(at)greenfieldseniorliving(dot)com
Winchester Information Center, please contact:
Paula Rose
Director of Community Relations
Greenfield Senior Living Inc.
Phone: 540-398-8310
prose(at)greenfieldseniorliving(dot)com