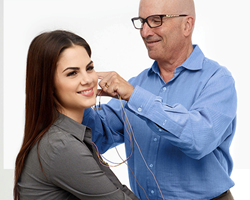 We find the percentage of our clients who report benefit from the relaxation and reorganizing of stuck brain patterns with Direct Neurofeedback is upwards of 80%. - David Dubin, M.D.
Los Angeles, CA (PRWEB) July 12, 2016
The Dubin Clinic, headed by Dr. David Dubin, has announced the availability of a revolutionary treatment for sufferers of common brain injuries and disorders. The treatment, called Direct Neurofeedback, uses a form of electrical stimulus which is not felt by the patient, yet has a positive effect on their brain's neural function.
The therapy has been tested through a joint study with the NFL, with 100% positive impact on retired players suffering from concussion-related injuries. Dr. Dubin was quoted as stating "We will be releasing a study shortly which features specific improvements in brain function and decrease in symptoms such as confusion, depression, and anxiety".
Direct Neurofeedback is used to treat the following injuries and conditions:

Traumatic brain injuries, including concussions
ADHD in children and adults
Autism
PTSD
Anxiety
Depression
With heightened public awareness of the lasting effects of traumatic brain injuries due to the recent blockbuster movie "Concussion," the public is more aware than ever of the lingering affects of head trauma and injury. This treatment represents a breakthrough in how these injuries are treated and, for the first time, offers actual rehabilitation and measurable improvement in patients with brain injuries and conditions.
For more information about Direct Neurofeedback therapy from The Dubin Clinic, contact the clinic directly at (323) 825-3554.
ABOUT THE DUBIN CLINIC:
David Dubin, M.D. leads a team specializing in Direct Neurofeedback therapy which has been proven to be effective in helping individuals dealing with symptoms of traumatic brain injury, depression, PTSD, anxiety, and autism spectrum disorders. This type of brain neurofeedback/stimulation is safe, effective, fast and painless.