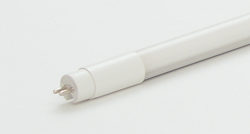 New York, New York (PRWEB) June 15, 2016
Transcend Lighting, Inc., leader in LED horticulture lighting, announced today results from a Medicine Man study that showed healthier cannabis clones when grown under LED light instead of fluorescent light.
The critical finding from the study indicated that clones grown with LED lighting exhibited significantly less yellow-streaking that often results from overheating the plants with fluorescent lighting. Tyler Schneider, Director of Operations at Medicine Man, commented, "The clones actually grow better under the LED light because there's a lot less heat. I wouldn't go any other way at this point."
Medicine Man's six week controlled experiment compared plant growth characteristics using Transcend Lighting's 30W T5 LED lamps vs standard 54W fluorescent lamps. Although the LED lamps consumed 45% less energy, both lamp types emitted equivalent photosynthetic photon flux density (PPFD) at the plant canopy.
According to Transcend Lighting CEO, Brian Bennett, "The economic and societal benefits of reducing energy consumption by 45% while maintaining equivalent PPFD are obvious, but enabling healthier plants with our LED technology is a big bonus. We always knew there was less heat in the LED beam, and we are excited to learn about the results of the Medicine Man study."
Transcend Lighting's T5 LED lamps will be on display in booth #323 at the Jacob Javits Convention Center in New York City, June 16-17, at the Cannabis World Congress & Business Expo.
About Medicine Man
Medicine Man is a pioneer and leader in the fast-paced medical and recreational marijuana industry. Now you can use our knowledge and experience to establish or grow your cultivation and/or dispensary. Our expert team at Medicine Man Technologies is available to teach you the newest technologies and processes to help your business thrive. We offer full service cannabis consulting and turn-key solutions. Learn more at: http://www.medicinemantechnologies.com
About Transcend Lighting
Transcend Lighting is a leading developer and U.S. manufacturer of LED lighting technologies. In 2015, the company emerged from the world-renown Silicon Valley incubator, Y Combinator, and is poised to transform the multi-billion dollar global horticulture lighting market. Transcend Lighting's patented and proprietary technologies enable unique advantages for horticultural solid-state lighting. Corporate headquarters is located in New York City, U.S.A. For more information, visit http://www.transcendlighting.com
Transcend Lighting Media Contact
Chuck DeMilo, VP, Marketing
800-205-7216
chuck(at)transcendlighting.com