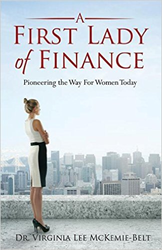 Pioneering the Way For Women Today
(PRWEB) June 14, 2016
Financial maven, Dr. Virginia Lee McKemie-Belt releases her book "A First Lady of Finance" through Next Century Publishing, detailing her life's accomplishments in the world of finance.
A young woman seeking to make a career in finance and commerce will find many positions available, now more than ever, and rarely encounter misogyny or a "men's only attitude" in the workplace. However, this was not the case when Virginia McKemie-Belt first began working in the field of finance more than fifty years ago. Much of the change in attitude and practice in the current business world today can be directly attributed to the persistence of Virginia McKemie-Belt.
A First Lady of Finance is a heartwarming, true-life story of a farmer's daughter who, in spite of much adversity and discrimination, defied tradition in the 1950s and 60s. Dr. Virginia established many "firsts" while pursuing her unconventional dreams, including:

The first spokeswoman to travel the world to speak on behalf of the American Bankers Association
The first woman alternative energy field analyst for the United Nations
The first woman professor to be invited by Numera Securities to study the Tokyo Stock Exchange
The first woman to become a full professor of finance at California State University (CSU)
This book is an interesting series of short stories covering many areas throughout the author's life, such as her fifth-grade teacher asking the class what they wanted to do with their lives when they grew up. Young Virginia replied, "I want to pay taxes like the wealthy and be in Who's Who." Thus, she was seeking fame and fortune. Each page-turning tale illustrates the tenacity of this pioneering woman and will inspire you to follow your own dreams.
Readers will laugh a lot, cry a little, fume at times, and rejoice in her many victories. For readers who want to be inspired by greatness and provoked into following their own dreams, so that they can look back at what they've done with pride and accomplishment, Dr. Virginia's incredible success will show them how she became known as A First Lady of Finance.
For more information on "A First Lady of Finance' and where it can be purchased, be sure to visit any of these fine retailers: Amazon, Barnes & Noble, and Reader's Legacy
Dr. Virginia Lee McKemie-Belt:
Dr. Virginia Lee McKemie-Belt was born June 6, 1923 in a small mining and farming town in southern Illinois. She holds a Bachelor's of Science on Economics, a Masters in Finance, and a Doctorate in Commerce from the University of Illinois. Throughout her career, she was a member of several professional organizations and published many articles in their journals. A professor of Finance at CSU, she also served as spokeswoman for the American Bankers Association and as an Alternative Energy Analyst for the United Nations. Now, she is a published author of her life's story, A First Lady of Finance.
Next Century Publishing (NCP):
NCP is a hybrid publishing company that has carved out a niche by offering a wide variety of publishing services to its clients. At NCP, an author's needs are assessed and the right publishing platform is suggested based on those desires. From simple E-book publishing to traditional trade publishing, NCP does it all. NCP's revenues have grown by over 200% in each of the past 3 years. With offices in Las Vegas, Toronto and Panama, the company is now prepared for another triple digit growth year.
Media inquiries: Carolyn Branson (702)912-2405 Carolyn(at)NextCenturyPublishing(dot)com