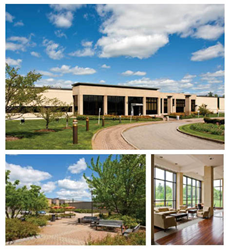 Boston, MA (PRWEB) June 15, 2016
Hackman Capital Partners, LLC and Calare Properties, Inc., are pleased to announce the completion of a long-term lease at Route 2 Commerce Park, 100 Simplex Drive, in Westminster, Massachusetts. The Fitchburg-based tenant, Seaboard Folding Box, will be occupying 189,124 square feet of space at the 685,000-square-foot property to boost their manufacturing and distribution operations. Seaboard Folding Box makes paperboard boxes for customers across the country in the food, retail, and personal care markets. The company anticipates its new location will bring 120 jobs to the community.
The state-of-the-art facility provides Seaboard Folding Box with the large floor plan necessary for the growing company to keep manufacturing and warehousing on one level with access to heavy power and multiple dock doors. Hackman Capital Partners will be customizing the space—and delivering it quickly—to accommodate Seaboard's specialty production equipment and office needs.
Approximately 295,000 square feet remains for lease at Route 2 Commerce Park, which touts first-class corporate amenities, excellent highway visibility and accessibility, robust infrastructure, abundant loading capacity, a full-service cafeteria and gated community with extensive parking, all in a lush, wooded setting. Located right of Route 2, 24 miles from Worcester and 53 miles from Boston, the 95-acre park is the ideal headquarters for manufacturing, distribution, R&D and corporate office users.
Hackman Capital and Calare Properties extend special recognition to David and James Stubblebine and Alan Ringuette of The Stubblebine Company who represented the landlord and tenant in the transaction.
The property is part of a more than 10 million-square-foot portfolio owned by a joint venture formed by Hackman Capital Partners, Calare Properties and KBS Real Estate Investment Trust. The bulk of that portfolio—24 buildings, totaling 7.95 million square feet—is located in the Northeast.
About Hackman Capital Partners
Founded in 1986 and headquartered in Los Angeles, Hackman Capital is a privately held, asset-based investment firm that focuses on the acquisition of industrial real estate and the purchase and sale of industrial equipment. The firm currently owns, through its affiliated entities, 270 facilities throughout the United States, totaling approximately 25 million square feet and more than 10,000 acres of developable land. With 30 years of experience in acquisition, redevelopment, and asset management, Hackman Capital is known across marketplaces for its ability to successfully navigate complex transactions and financial restructurings involving real estate and equipment.
For more information, visit http://www.hackmancapital.com.
About Calare Properties
Founded in 2003, Calare Properties is a privately owned, Massachusetts-based real estate operator focused on acquiring and managing warehouse, manufacturing, research and flex/office assets primarily in the Northeast. Since the firm's inception, Calare has led the acquisition of more than15 million square feet of properties, representing $650 million in real estate transactions through funds, direct deals and a multi-asset portfolio.
For more information, visit http://www.calare.com.