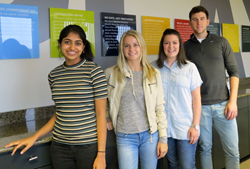 The Billhighway internship program operates as a win-win by allowing students to test drive a career prior to graduation.
Troy, MI (PRWEB) June 14, 2016
Summer at Billhighway brings a renewed sense of energy, creative ideas, and fresh talent as they welcome their new crop of interns. Four Millennials join the team for three months of unique learning experiences that will prepare them for their chosen careers in a culture where they are free to be themselves. Not only does the internship provide them with valuable technical skills, it also allows the seasonal team members to gain an understanding of responsibility, accountability, and how to be a team player. Joining the team are Amanda Johnson, William Kemp, Shelby Miller, and Urvi Vasudevan.
Amanda Johnson comes to Billhighway as a junior from Michigan State University. Her studies in Communications and Sales Leadership will be beneficial in her role as the Marketing Intern. At Billhighway, she will be responsible for research, communications, lead management, event planning, and direct mail campaigns, in addition to providing cross-functional team support. At Michigan State, she is involved in her sorority, Chi Omega, as well as the Michigan State Marketing Association and intramural sports. In her free time, she can be found spending time with friends and family or reading a good book.
Also joining the team is another Spartan, William Kemp. He will be putting his double major in Finance and Economics to good use as the Finance and Accounting Intern. His time at Billhighway will be spent supporting corporate finance by completing general ledger updates and tracking accounts receivable invoices, as well as performing bank reconciliations and month-end processing. His previous experience as an accounting intern at Kemp Building & Development puts him in the perfect position to make a difference from day one. Recently, he committed to passing the CFA curriculum. William is passionate about developing mobile phone applications and participating in events like MSU's hackathon.
Brenda Gallick, Director of Team Member Success, said, "It is sometimes surprising to our interns to see first-hand how a business can be successful in an environment where coming to work in flip flops and participating in a lip sync challenge or pie eating contest during our Summer Olympics is common practice one day and the next involves working on a large scale organizational project critical to successfully achieving our goals. One of our plays, "Powered by Fun," is what drives this creative environment, where we are able to deliver Results, Faster! without missing a beat. We're thrilled to have this year's group of interns join us just in time for the kick-off of summer."
Shelby Miller is currently a sophomore at Grand Valley State University. She's working towards a double major in Human Resource Management and Marketing, which makes her the ideal candidate to be a Team Member Success Intern. Shelby's time will be spent gaining experience in talent acquisition, culture building, events and charitable volunteer planning, and training. In her spare time, she enjoys movies, spontaneous drives, swimming, spending time with her four dogs, and laughing as much as possible.
Urvi Vasudevan joins the team from the University of Michigan as a rising sophomore. She's most interested in majoring in Statistics and Economics. Her role as the Operations Intern will allow her to support both their Client Relations and Client Accounting Teams. Responsibilities include creating client communications, reporting, event assistance, as well as research and market analysis. Urvi enjoys watching sports, eating food, especially dessert, and traveling to new places both in and out of the country.
The Billhighway internship program operates as a win-win by allowing students to test drive a career prior to graduation. The organization considers skill development, mentoring and networking opportunities gained from interning to be increasingly important for young people today as they enter a very competitive workforce. Besides challenging work and a chance to be a part of a team with real projects that create real results, the internship program also provides exposure to making an impact through volunteering, community involvement, and good old-fashioned fun at events such as their summer Olympics or quarterly music jam day.
Billlhighway immerses their interns in community involvement by supporting metro Detroit's Intern After 5 program, which provides interns access to all of the exciting things going on in the city of Detroit. The After 5 Intern program encourages young professionals to live, work, and play in Detroit while offering them the opportunity to mix, mingle, and network with the area's top business leaders. Billhighway is proud to support a program that provides interns with such a well-rounded experience, while also supporting the local economy in hopes of nurturing and retaining top talent in the area.
About Billhighway (http://www.billhighway.co)
Billhighway, headquartered in Troy, Michigan, develops cloud-based automation software that makes financial management simpler for multi-entity organizations. Since 1999, we've helped our clients free up internal resources and focus more time on their missions by increasing revenue, cash flow, and the bottom line. Through a robust, rules-based engine that integrates payment processing, banking, and accounting with existing systems, Billhighway provides a transparent, holistic view of your organization's finances so you can work smarter, not harder. Billhighway is recognized for award-winning customer service and industry-leading data security.