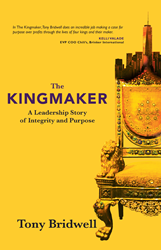 Kyle had a habit of arriving early for meetings. After years of playing competitive sports, he'd learned quickly that being late to a meeting was not acceptable if you were going to play in the big leagues. That day it was no different.
(PRWEB) June 14, 2016
Being King isn't easy. Wearing the crown isn't either. Main character and public relations expert, Kyle Ellis, sets out to make Kings of his leadership clients, some of whom are thwarted by scandal, which threatens to ruin their reputations in Tony Bridwell's most recent release, The Kingmaker, out on June 14.
Tony builds off of more than two decades of leadership experience as an executive, author, international speaker, consultant and coach to develop a plot line thick with leadership obstacles and characters who face multiple challenges en route to becoming Kings.
A current partner with global consulting firm, Partners in Leadership, and former Chief People Officer of Brinker International, Tony has poured his vast professional experience into developing 7 Learning Points that aid leaders as they grow into Kings: living purpose-centered, understanding success, avoiding situational integrity, acknowledging blind spots, recognizing the simplicity of true leadership, believing in the power of second chances, and leading by serving as Kingmaker.
According to Kirkus Reviews, "Bridwell concocts a jet-setting corporate fable that offers simple precepts to live a more other-directed and purpose-driven life.'
Released today at all major retailers, The Kingmaker points the way to gaining and maintaining leadership influence. Find more information at http://www.ElevatePub.com.