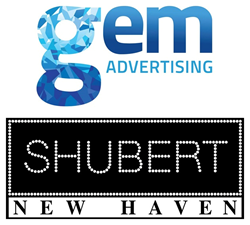 New Haven, CT (PRWEB) June 14, 2016
GEM is a full-service international communications and marketing agency. GEM and the Shubert, New Haven have partnered together on redesigning the theatre's website to create a vibrant new site that will engage and educate ticket buyers and Shubert supporters. This digital renovation runs in tandem with a larger revitalization that the classic theatre itself is going through.
GEM won the account RFP, or request for proposal, after going up against a competitive set of area-based agencies. GEM couldn't be more thrilled to be working with the Shubert to help extend the theatre's already stellar brand.
"GEM is extremely excited to be working with such an iconic name that's synonymous with entertainment. We look forward to advancing the Shubert brand to new heights. Growing up with an appreciation of the performing arts I am thrilled at this newly acquired relationship," said Alex Winter, Co-Founder, GEM Advertising."
"As the legendary Shubert Theatre enters its second century of being the gateway for the performing arts within our region, we are excited to announce a partnership with GEM Advertising to develop new, innovative ways for us to communicate with our audience. We are currently in the process of building a new website that will be easily accessible on multiple devices, expanding our digital advertising presence and evolving our messaging so the Shubert continues to be a shining star in New Haven," remarked John Fisher, Shubert Executive Director.
The historic Shubert Theatre is the crown jewel of downtown New Haven and a not-for profit arts, education and community institution serving the people of Connecticut and, in particular, the City of New Haven. The Shubert, New Haven is operated by CAPA, a Connecticut not-for-profit organization.
When it opened 1914, before "talkies," television, and rock concerts, the Shubert was built for the live theater experience — with only 1,600 seats, it is intimate, personal and immediate. Today, hosting a sparkling lobby, comfortable new seats and a state-of-the-art sound system, the Shubert is a real Broadway house where the magic of theater, music and dance come alive.
###
About GEM Advertising
GEM is a full-service, international, award-winning communications and marketing agency. With nine in-house departments, GEM produces and polishes multifaceted branding campaigns that spark love affairs between brands and their customer-advocates. GEM sees the highest potential in their clients and works with a feverish degree of passion and clarity to drive that potential into existence using human and technology resources of the highest integrity. GEM Advertising has offices in New Haven, CT; Vancouver, British Columbia; Boston, MA; and Chicago, IL. To learn more about GEM Advertising, please visit: http://www.GEM-Advertising.com.
About Shubert, New Haven
The Shubert, New Haven is the heart of a thriving downtown neighborhood bristling with alluring restaurants, cafes, shops and museums. Since opening in 1914, the Shubert Theatre has earned the title "Birthplace of the Nation's Great Hits" by staging the world premieres of hundreds of shows including "Oklahoma!," "A Streetcar Named Desire," "Annie Get Your Gun," "My Fair Lady," "A Raisin In The Sun," "The Sound of Music" and countless more.
The Shubert, New Haven is owned and operated by CAPA, one of America's most respected theatre managers and producers. Now in its 46th year, CAPA is a not-for-profit, award-winning presenter of national and international performing arts and entertainment. For more info on the Shubert, New Haven, Theatre, please visit: http://shubert.com/.