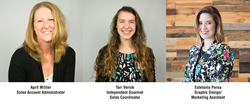 Lima, Ohio (PRWEB) June 15, 2016
On May 30, Range Kleen Mfg. announced the promotion of April Miller to the position of Sales Account Administrator. April has been with the company for almost 15 years. She has shown a great desire to learn more about growing her value to the company and continues to show passion for success.
April started out in the packaging department in September of 2008. From the packaging department April joined the Quality Control team and made an immediate impact with her keen attention to detail. She quickly ascended to a leadership position in Operations as the head of QC. April's hard work and determination provided great results in the department as she implemented efficient and effective procedures. April exudes great energy, stellar work ethic and strives to achieve company goals. Her positive attitude and great character combined with her overall Range Kleen product and systems knowledge will make her a great asset to the Sales team.
Range Kleen Mfg. is happy to announce that effective July 13 2016, Tori Vernik will be assuming the position of Independent Gourmet Sales Coordinator. Tori has been with the company for 1 year. She has shown a great desire to learn more about growing her value to the company and continues to show passion for success.
Tori started as an intern at range in May 2015 in which she worked on various projects in the Accounting, Sales, and Operations Departments. Tori then joined the accounting team as a part time Accounts Receivable Specialist and quality made an impact by improving process and creating results. Tori will earn her Bachelors Degree in Business Administration from The Ohio State University in Fall of 2017. Tori now joins that sales team in a full time role that will focus on growing sales in the Independent Gourmet Retail Channel. Tori is a quick learner with excellent problem solving skill. Her can do attitude and stellar work ethic will make her a great addition to the Sales Team.
Range Kleen announces a new position in the Marketing Department. Estefania (Steph) Perea will be working out of our Dallas location and report directly to the Director of Marketing. Steph started on June 6, 2016. Steph received her Graphics Arts degree from the University of Texas at El Paso. Her responsibilities will include website development, collateral materials, social media contest and consumer advertising, as well as photography, video and assisting in packaging design. The position of Graphic Design/Marketing Assistant is a new addition to the Marketing Department and was needed due to the growth and success of our three Brands…Range Kleen/Berndes and Moneta.
About Range Kleen Mfg., Inc.
Range Kleen Manufacturing, Inc. is a Lima, OH based company manufacturing household products sold to major retail chains globally and has been taking care of the customer (TCOTC) since 1971. Its product Divisions include: Original Equipment Manufacturing Quality (OEM) replacement drip pans for ranges & stoves; Non-stick Metal Bakeware; Kitchen Decorative products specializing in exclusive licensed designs; Storage, Organization, insulated food and beverage bottles and household cleaning supplies. Range Kleen Introduced their own line of cookware- Stainless Steel and Enameled Cast Iron as well as pot racks in 2007. Effective December 21, 2009, Range Kleen Manufacturing was pleased to announce the partnership with Berndes Cookware USA and has taken the lead of all sales, marketing and shipping of Berndes Cookware USA from their International Headquarters in Lima, Ohio. July of 2015, Range Kleen partnered with Moneta Cookware from Italy and has taken the lead of all sales, marketing and shipping of Moneta Cookware USA from their headquarters in Lima, Ohio.