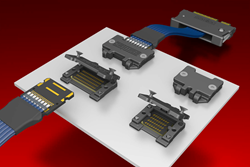 ZRDP is that rare interconnect system that combines low profile, high-density, and highspeed
New Albany, IN (PRWEB) June 14, 2016
Samtec, a privately held $625 million global manufacturer of a broad line of electronic interconnect solutions, has expanded its family of Z-Ray® micro pitch interposers to include an ultra-low-profile cable system for high-speed cable-to-board applications where space is limited. The 0.80 mm pitch system, with an overall height of less than 4 mm, features a mating compression mount interposer and a rugged metal cage.
The Z-Ray® ultra-low-profile cable assembly (ZRDP Series) features 34 AWG Eye Speed® low skew twinax ribbon cable with 8 or 16 pairs, 100 Ω differential signal routing and various end two options. With an FR4 core and BeCu micro-formed dual compression contact system, the mating interposer (ZCI Series) is available in two sizes to accommodate the cable pair count. The rugged metal cage (ZCC Series) provides secure mating between the cable and interposer, as well as compression of the interposers' contacts to the board. Metal screws and choice of through-hole or surface mount weld tabs increase stability on the board.
"ZRDP is that rare interconnect system that combines low profile, high-density, and highspeed," said Steve Hillerich, Samtec High-Speed Cable Product Manager. "In addition, the cable assembly system allows customers to leverage all of these capabilities over a long distance, and is available with different end two options."
Currently in development is a Z-Ray® vertical cable system for 26+ Gbps performance in a highdensity, space saving design. Supporting this technology is Samtec's High-Speed Cable Plant that provides in-house research and development, and manufacturing of precision extruded micro coax and twinax cable. The plant's capabilities include 26-38 AWG center conductors, 50 Ω to 100 Ω impedance, and assemblies rated to 28+ Gbps performance.
About Samtec, Inc.
Founded in 1976, Samtec is a privately held, $625 million global manufacturer of a broad line of electronic interconnect solutions, including IC-to-Board and IC Packaging, High Speed Board-toBoard, High Speed Cables, Mid-Board and Panel Optics, Flexible Stacking, and Micro/Rugged components and cables. Samtec Technology Centers are dedicated to developing and advancing technologies, strategies and products to optimize both the performance and cost of a system from the bare die to an interface 100 meters away, and all interconnect points in between. With 33 locations in 18 different countries, Samtec's global presence enables its unmatched customer service. For more information, please visit http://www.samtec.com.
Samtec, Inc.,
P.O. Box 1147
New Albany, IN 47151-1147
USA
Phone: 1-800-SAMTEC-9 (800-726-8329)