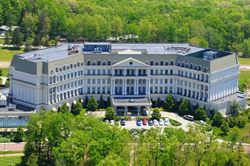 Los Angeles, California (PRWEB) June 14, 2016
InvoTech Systems Inc. announced the recent implementation of its Uniform System at the luxurious Nemacolin Woodlands Resort. InvoTech Systems is the leading provider of advanced Linen Management, Laundry and Uniform Systems that integrate the latest RFID technology to increase profitability for hotels, resorts, casino operators, sports arenas, convention centers and theme parks. The InvoTech System installed at Nemacolin Woodlands Resort is for managing employee uniform inventory and accountability with employees and the laundry. Click here for more information on InvoTech's Linen, Laundry and Uniform Systems.
The InvoTech Uniform System will provide accurate and real-time inventory information of all staff uniforms to monitor and maintain uniform assignments to employees and ongoing purchases efficiently. The InvoTech System is used to assign each uniform item to specific team members and track the daily uniform requirements for all divisions and departments. The System provides functionality to manage the entire wardrobe room for approximately 800 team members.
InvoTech's clients include MGM Resorts International, Ritz Carlton, Hyatt Hotels, Marriott, Hilton Hotels, Loews Hotels, Mandarin Oriental, Universal Studios Hollywood and Florida, California and Singapore, Madison Square Garden, MSR-FSR Laundry, and the Empire State Building. International clients include Four Seasons Macau; Venetian Macau Resort; MGM Grand Macau; Hyatt Shanghai, China; Burswood Entertainment Complex, Australia; Sheraton Seoul, Korea; Resorts World Sentosa Singapore; and Palace Resorts, Mexico.
About InvoTech Systems
InvoTech Systems, Inc. increases profitability for clients. It is a leading provider of software management and control systems for uniforms and linens, and for laundry and security operations. Served markets include hospitality, healthcare, commercial laundry, and amusement industries worldwide. InvoTech products deliver vital information that establishes ultimate control and total accountability. InvoTech solutions are reliable and easy to use. They streamline operations and improve service levels with reduced labor and operating expenses. InvoTech provides 100% of its system support and product development in-house. The firm's trusted staff averages 10 years of reliable technical experience, knowledge of methodologies, and industry depth. InvoTech is a Microsoft Certified Partner that evolves technology-based solutions regularly based on client- and staff-driven innovations. The company is rooted in a culture that emphasizes long-term client relationships and superior customer service. For more information, please visit http://www.invotech.com.
ABOUT NEMACOLIN WOODLANDS RESORT
Nemacolin is one of North America's premier luxury resort destinations. Situated on nearly 2,000 acres in Farmington, Pennsylvania, Nemacolin features 320 luxurious guestrooms, suites, townhouses and private upscale homes. The resort offers championship golf, including the Pete Dye-designed Mystic Rock golf course, as well as an internationally acclaimed spa collection. Outdoor enthusiasts can enjoy our Shooting Academy; Wildlife Academy that features everything from safari tours to dog sledding; Adventure Center, complete with zip lines and climbing wall; and Jeep Off-Road Driving Academy. Nemacolin boasts 15 restaurants and lounges, including Lautrec, a Forbes Five Star and AAA Five Diamond restaurant experience. For meetings and events, Nemacolin's 32,000 square feet of conference space includes three ballrooms, a lecture hall and 25 meeting rooms.
For additional information, please visit our website at http://www.Nemacolin.com or call 866-399-6957.
CONTACTS:
InvoTech Systems, Inc.
Oswald Lares, Director of Sales & Marketing
20951 Burbank Blvd., Suite B
Woodland Hills, CA 91367 USA
Phone: 818-574-7795
Email: Sales(at)invotech(dot)com
http://www.invotech.com