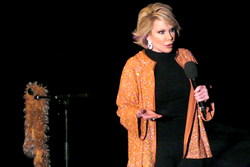 The role played in the popularizing of plastic surgery by famously funny women, ranging from 1920's sensation Fanny Brice to Roseanne Barr and the late Joan Rivers, demonstrates the reality that all kinds of people want to look their best
Beverly Hills, CA (PRWEB) June 14, 2016
According to a June 11 article published on Page 6, an 88 year-old Allure magazine-writer turned filmmaker has just completed a rough cut of a documentary film about the historic role female comics have played in promoting plastic surgery over the last century. Payam Jarrah-Nejad, M.D., F.I.C.S., F.A.C.S., a Beverly Hills-based plastic surgeon known as Dr. J to his patients and colleagues, comments that the role played in the popularizing of plastic surgery by famously funny women, ranging from 1920's sensation Fanny Brice to Roseanne Barr and the late Joan Rivers, demonstrates the reality that all kinds of people want to look their best and procedures are not always about looking more glamorous.
Dr. J notes that, while many of us associate plastic surgery with very traditionally beautiful movie stars, models, and reality TV celebrities, the majority of his clients do not really fit that profile, and they seek out procedures for all kinds of reasons. Just as 20th-century comic Fanny Brice, no one's idea of a glamorous beauty, obtained a pioneering rhinoplasty on her very prominent nose largely to give her more flexibility in her career, a great many people want to tone down facial features that may distract coworkers and peers. The idea, notes Dr. J, is often not so much about looking fabulous as simply looking normal.
Like rhinoplasties, breast reductions are often about altering your appearance to be less distracting, notes Dr. J. Recently, Ariel Winter, of the TV comedy "Modern Family" obtained this procedure largely to avoid unwanted attention and also feel more comfortable. Dr. J adds that a similar procedure was also obtained by comedienne Roseanne Barr some years ago.
Of course, others seek out plastic surgery to look younger and to be taken more seriously by younger colleagues. Dr. J notes that few people in public life have been as open about their use of plastic surgery as the late Joan Rivers, who maintained an extremely active career as a comic and television personality right up to her 2014 death at the age of 81. As people get older, Dr. J notes, the tendency might be for younger people to take them less seriously in career matters. However, he adds, a younger appearance can make a big difference. Indeed, he notes, though she was never exactly a sex symbol, one of Ms. Rivers' last TV appearances, on FX's "Louie," involved her being romantically pursued by much younger comedian Louis C.K.
Dr. J adds that plastic surgery really is for all kind of people, but they should exercise some care in the choice of a qualified plastic surgeon. Dr. J is double board certified and is looking forward to hearing from women and men from all walks of life who are interested in procedures. Readers are invited to call Dr. J's office at 310-683-0200 or visit his practice virtually at http://www.DrJPlasticSurgery.com.