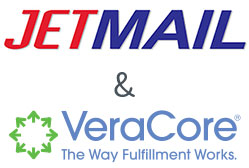 With this expansion, we have increased our clients' ability to get their ecommerce orders to any global market efficiently and cost effectively.
Rocky Hill, CT (PRWEB) June 15, 2016
VeraCore Software Solutions, Inc. has announced today that Jet Mail Services, Inc. of Hudson, MA is expanding their use of the VeraCore's order fulfillment software platform to their London facility to support their growing U.K. and EU fulfillment business.
Jet Mail initially implemented the VeraCore Fulfillment Solution in 2010 after searching for a software platform that would support the continued growth of the fulfillment segment of their business. After more than five years of successful collaboration with VeraCore, Jet Mail has expanded their use of the system, adding an additional VeraCore Warehouse Management System to serve as the centerpiece of their European fulfillment operation. With the implementation complete, Jet Mail has created a 'distribute, print, and fulfill' model for US based corporations who have marketing production, ecommerce and fulfillment requirements in the UK and throughout the EU.
By selecting Jet Mail's solutions as a single source for both domestic and UK production, Jet Mail's customers can leverage the expertise of Jet Mail domestically, and not have to search for, qualify, and manage a separate UK vendor. More importantly, the expansion enables Jet Mail's clients to streamline operational and shipping costs, while significantly decreasing order turn time. Ed Kohler, Jet Mail's President, commented on the recent expansion, "Our clients are competing in global markets [and] we must adapt to service them worldwide. With this expansion, we have increased our clients' ability to get their ecommerce orders to any global market efficiently and cost effectively."
The VeraCore Order Management System's support for multi-facility distribution will enable Jet Mail to provide their clients with customized ordering portals that can be used to order materials for both domestic and European distribution. As the orders are collected in VeraCore, the system examines the shipping destination and automatically routes the order to the correct Jet Mail warehouse. In addition, Jet Mail's clients will have visibility to inventory levels, both in aggregate and by facility.
Denise Lunden, president of VeraCore Software Solutions commented on the Jet Mail expansion, "We're confident that the model Jet Mail has built by leveraging VeraCore's multi-warehouse functionality will be a smashing success and will pave the way for additional expansion to some of their other international facilities."
About Jet Mail Services, Inc.
For more than two decades, Jet Mail Services has specialized in marketing production and fulfillment solutions, offering a full range of services in support of smart branding, marketing communications, and customer engagement objectives. Jet Mail brings together the latest in technology with deeply experienced professionals to deliver service that soars.
Visit Jet Mail's website at http://www.jet-mail.com
About VeraCore Software Solutions, Inc.
VeraCore Software Solutions, Inc., has been providing software solutions for commercial printers, fulfillment companies, and marketing service providers for over 30 years. Their flagship product, The VeraCore Fulfillment Solution, enables fulfillment service providers to manage all aspects of their clients' order fulfillment programs.