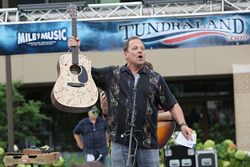 The festival has already had such a significant impact on our community and provided so many opportunities for emerging artists and music-lovers alike.
Appleton, WI (PRWEB) June 14, 2016
With less than two months until its much-anticipated return, festival organizers are finalizing plans for 200-plus artists to appear at Mile of Music in Appleton, Wisconsin.
The popular festival is entering its fourth year (also known as Mile 4) and will again be offering nearly all performances at no charge from August 4-7 thanks to the support of dozens of community-minded sponsors.
Tundraland is among those sponsors as the home improvement company – one of the fastest growing in the country – has signed on to be the festival's Presenting Partner again in 2016. According to Brian Gottlieb, president of Tundraland, the decision to continue supporting Mile of Music was an easy one.
"Our company is proud to be among the many that have stepped up to bring this one-of-a-kind music experience to Appleton," Gottlieb said. "The festival has already had such a significant impact on our community and provided so many opportunities for emerging artists and music-lovers alike."
Along with being the lead financial sponsor for two years now, Tundraland has paved the way for a year-long youth music scholarship program with its "Singing in the Shower" booth, and also introduced an initiative to complete a bathroom remodel for a deserving local family.
"Brian and his company are an excellent example of what it means to support your community," said Dave Willems, Mile of Music co-founder and marketing executive. "He and his company have come to the table in a big way to back this festival and initiate some added philanthropy in the process."
Willems said the festival is expecting upwards of 100 sponsors this year as more organizations and individuals learn about the creative ways they can support the music. Mile of Music was also awarded two tourism-related grants last year that aided in funding.
"From in-kind and venue to adopt-an-artist sponsorships, every bit of support helps as we work to pull such a major event together," Willems explained. "This festival is unique in that it's the only one I know of that offers 800-plus live performances at zero charge over a four-day weekend, and we have our community to thank for that."
Mile 4 will feature original music from 200-plus artists at more than 70 venues across a one-mile stretch of Downtown Appleton and its riverfront with Americana, roots, indie rock, country and bluegrass among the musical genres performed. It will again incorporate its Music Education series with hands-on music-making activities for all ages.
To learn more about the lineup of performers, news related to the event and Music-Makers Badges that allow attendance at about a dozen special shows, visit http://www.mileofmusic.com. Mile of Music can also be found on Facebook, Instagram, LinkedIn, Snapchat and Twitter.
About Mile of Music
The Mile of Music is an artisan, original music festival that kicked off in August 2013. In its first four years, the festival has quickly flourished. It brought 200 bands and solo artists to Downtown Appleton in 2015 alone, with 750 live music sets performed. The collaborative event was co-founded by Appleton marketing executive Dave Willems and Appleton/Nashville-based national recording artist Cory Chisel, with support from more than 100 community organizations and sponsors as well as 300 volunteers. For more information, visit http://www.mileofmusic.com.