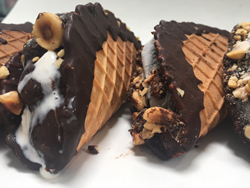 The world needs more tacos – ice cream tacos.
Berkeley, CA (PRWEB) June 15, 2016
Stateside Treats, a locally owned cupcake and baked nostalgic treats company, is celebrating the launch of its Kickstarter campaign to bring the ice cream taco to the San Francisco Bay Area. It is hosting a party with the Cupkates Food Truck at Fieldwork Brewing on June 18 from 3 PM to 7 PM. 100% of the revenue will be donated to Le Conte, Peralta, and Ocean View Elementary Schools.
Stateside Treats is the synthesis of two tasty local businesses – Cupkates Food Truck and Stateside Bakery Shop – to create one company crafting delicious preservative-free cupcakes and nostalgic treats.
Angel Cruzado and Erica Land are the Co-Founders of Stateside Treats. They are launching a Kickstarter campaign to bring the ice cream taco to residents of the San Francisco Bay Area. For more information, check out icecreamtacos.com.
This local business is seeking the financial support of the community so it can make improvements to its food truck and retail location, develop its catering business, and create the ice cream taco – all while continuing to surprise and delight its customers with tasty nostalgic treats.
To start this business, Angel took his vision to Craigslist, where he was seeking a consultant pastry chef. Dreams collided when Erica responded to his post and resigned her employment and 401K. The two realized they shared a passion for nostalgic treats and decided to join forces: Angel with his savvy business sense, and Erica with her years of experience in the culinary scene and bean-to-bar chocolate world.
For over a year, they have been delighting the San Francisco Bay area with nostalgic treats. To thank the community for its contributions, the Kickstarter campaign will feature various early bird discounts on ice cream tacos, baked treats, limited-edition postcards, T-shirts, and more, as well as recognition on the statesidetreats.com website.
"Running a company is not for the faint of heart," Angel, the business mind behind Stateside Treats, said. He is juggling running the Kickstarter campaign with his career in human resources and being a new dad. "I have my fingers in a lot of pies at the moment, but it's worth every moment. Stateside Treats is a combination of everything I am passionate about – bringing people together, promoting happiness, family, work, play, and of course – unbelievably delicious treats."
Meanwhile, Erica, the dessert mastermind behind Stateside Treats, has been developing a nostalgic menu. Alongside the classics, she has created health-conscious interpretations of American favorites: Twinkies, Oreos, Nutter Butters, and Ding Dongs, to name just a few. She also puts delightful twists on the classics, such as S'mores cupcakes and PB&J macarons.
"We're all about taking our customers on a sweet, guilt-free walk down memory lane with our nostalgic treats. In addition, our delightful menu features cookies, cupcakes, macarons, and of course, eventually the ice cream taco – all of which are lovingly made from locally-sourced ingredients and have neither additives nor preservatives," Erica said.
Stateside Treats will be raising funds for the elementary schools in the community with a selection of baked nostalgic delights and family-friendly fun at Fieldwork Brewing on June 18. To support the Kickstarter campaign, visit icecreamtacos.com to learn more. The campaign will run through July 20.
After all, the world needs more tacos – ice cream tacos.