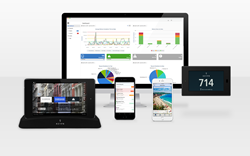 Since launching at the Avalon hotels, we are already seeing 90% guest engagement and unparalleled insight into guest requests and staff performance across all areas of operations. -- Brian De Lowe, President of Proper Hospitality
New Orleans, LA (PRWEB) June 15, 2016
KEYPR today announced that it will be offering an exclusive first look at the newest version of its on-demand guest services and management platform at this year's HITEC to be held in New Orleans June 20-23. With 200+ properties currently under contract, the startup is fast becoming the industry standard for hotels and luxury residences that need a fully integrated mobile-first solution for hyper-connected guests. KEYPR's platform offers one-touch access to check-in and out information, amenities, guest services, and allows operators to customize communication and manage guest needs directly through its back office system.
The KEYPR platform features the KEYPR app, digital marquee & keyless entry system, in-room tablet and workflow management. The system delivers a hyper-personalized, seamless guest experience while simultaneously creating new revenue opportunities and operational efficiency through real-time analytics and management tools. Recent properties to launch the technology include 11 Howard in SoHo NY, Greystone Hotels, L.E. Hotels' Luxe Rodeo Drive and Luxe Sunset Boulevard, as well as, Proper Hospitality's Hollywood Proper Residences, Avalon Beverly Hills and Avalon Palm Springs.
"Consumer patterns have shifted to mobile; we are here to facilitate that change for hotels and luxury residence operators," said Nizar Allibhoy, CEO of KEYPR. "KEYPR is the ultimate platform for on-demand guest services and management because it is the most comprehensive solution. Whereas competing offerings address access or management, we are the only one that brings the entire experience—guest-facing and back-of-the-house—into a single, real-time timeline. KEYPR is also the only solution created by industry veterans that understand the guest experience from the inside out. This is why we crafted KEYPR as a platform that not only delivers operational efficiencies, but also creates new revenue opportunities."
The KEYPR platform offers hotel operators the tools to:

Improve guest experience
Improve service delivery and operations
Prevent negative social media and TripAdvisor posts before they happen
Gain extensive and deep metrics on what guests are requesting, how operations are delivering against these requests, and areas to target for improvement
Direct message and direct market guests to increase revenue
Create new revenue streams
Provide keyless entry for all rooms using existing locks
What Hoteliers Are Saying about Us:
"KEYPR is the ideal technology partner for us. We are striving to create unique, highly personalized and curated experiences for each guest. KEYPR is here as the crucial component in that delivery chain. Since launching at the Avalon hotels, we are already seeing 90% guest engagement and unparalleled insight into guest requests and staff performance across all areas of operations. We look forward to expanding
the range of concierge services enabled by KEYPR that will delight our guests, across our entire portfolio."
-- Brian De Lowe, President of Proper Hospitality.
"In this technology age, plastic key cards are rapidly becoming obsolete. This new partnership will offer our management team an efficient way to access operational metrics instantly and ultimately improve the overall guest experience."
-- Efrem Harkham chairman and founder of Luxe Hotels.
KEYPR is an official HITEC 2016 exhibitor. For more information, to request a demo, or to speak with a KEYPR executive, please contact Bill Lessard, wlessard(at)prwithbrains(dot)com, 914.476.6089.
About KEYPR
KEYPR is a cloud-based guest experience and management solution for hotels and luxury residences. With more than 200 properties currently under contract, KEYPR delivers a hyper-personalized, friction-free experience while creating new revenue opportunities and operational efficiencies for hotels. Guests can personalize their entertainment experience and access a directory of hotel services on-premises through an in-room tablet or the KEYPR app. Hotel operators and residence managers enjoy an integrated dashboard that gives them visibility into guest needs throughout their stay; the ability to offer targeted services to high-value guests and the ease of monitoring operational KPIs across multiple properties. KEYPR's team is comprised of Silicon Valley insiders and former executives from Hilton, Sony and Westmont Hospitality. Its industry partnerships include integrations with Opera, OpenHotel, WebRezPro and other PMS Providers. It has been featured in Hotel News and Next Big Thing. For more information, visit: http://www.keypr.com.