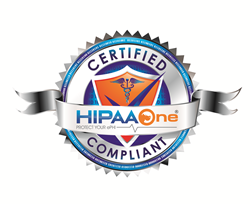 HIPAA One is the first Compliance Company to be up-to-date with Phase 2 of the OCR's Audit Program" said Steven Marco
Lindon, UT (PRWEB) June 15, 2016
HIPAA One is pleased to announce their HIPAA Security Risk Analysis and Privacy Risk Analysis solutions are both fully up-to-date with the Office of Civil Rights (OCR)'s Phase 2 Audit program. Some highlights of the new updates for HIPAA compliance enforcement include 708 updates to Privacy and 880 updates to Security. These changes include more policies and procedures with supporting documentation, Health Plans must have assurances from their plan sponsors, and all companies have to get "satisfactory assurances" of HIPAA compliance from their business associates, vendors and subcontractors.
"Using Spreadsheets, the HHS SRAT tool and HIPAA assessment software tools other than HIPAA One are out of date. HIPAA One is the first Compliance Company to be up-to-date with Phase 2 of the OCR's Audit Program" said Steven Marco, Founder and President. "With the rest of the industry catching up and the audit program gearing up in the coming months, we want to let everyone know there is an option to be compliant starting today using HIPAA One."
About HIPAA One®:
HIPAA One® is owned by Modern Compliance Solutions, Inc. and was started with the vision of helping the health care community, business associates and others improve patient care, drive more revenue and reduce costs through software and service solutions that automate mundane, error-prone and labor-intensive risk analysis activities. We understand some users want the benefits of HIPAA compliance without becoming experts in the regulations. Others such as certified Security and Compliance experts want the adherence to NIST-based methodologies, accepted Audit principles and added flexibility to drive an effective ongoing risk management program. HIPAA One® was designed to bring peace of mind to all professionals by being simple, automated and affordable.
Contact us today to learn how HIPAA One® Security and Privacy Risk Analysis Software and Professional Services through our certified partners will enable your organization to protect ePHI and stay current with ever-changing legislation.