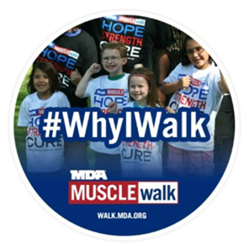 Bedford, TX (PRWEB) June 15, 2016
Each day, everyday freedoms like walking, hugging, playing and even breathing are taken away from kids and adults in our community with muscular dystrophy, ALS and related muscle-debilitating conditions. The Muscular Dystrophy Association's goal is to fight to free these individuals from the devastating effects of these illnesses, and now the organization is benefiting from the support offered by a local insurance agency, The Golseth Agency.
The Golseth Agency has launched a fundraising campaign benefiting the MDA, and it will work diligently to promote the campaign to gain support from customers, business partners, staff and others. The fundraising page can be accessed here
"We can only imagine what life could be like with a devastating illness that impairs the way our muscles work. I am in awe of the work that the MDA does to support those people but also offer hope by doing research for a cure" said Maria Golseth, the principal at The Golseth Agency.
The agency will donate $10 to the cause for each person recommended to the agency for a quote – no purchase necessary. Anyone willing to help this campaign can recommend someone they know might need a new insurance evaluation for their auto, home, life, and more.
The Agency is employing its social media channels, email and text message communications in the campaign, and dedicating a full page of their monthly magazine to the cause. The electronic version of Our Hometown magazine can be viewed here: http://www.thegolsethagency.com/Our-Hometown-Magazine_47.
Operating as agents of change in the community, The Golseth Agency will continue to work for worthy causes. Any members of the community can request to be considered for future campaigns through this link: http://www.thegolsethagency.com/Add-Community-Cause_46. Entries are diligently submitted for review, and the elected worthy causes are properly contacted by a representative from the Agency. More information regarding past and current campaigns can be found at http://www.thegolsethagency.com/community-cause.
About The Golseth Agency
The Golseth Agency's mission as a team is to provide the best insurance and financial services in the industry. Their number one job is to protect the current assets clients have worked so hard for, and to help them invest so they can retire with the right amount of money. Golseth's success is measured by customer satisfaction and the value they bring. The capable agents at The Golseth Agency can be easily reached at 817-540-1133 and 972-874-8200.