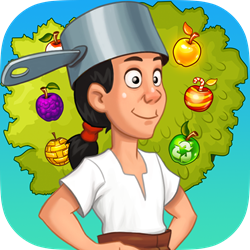 Most people think videogames are a waste of time because all the effort put into a game stays inside the game. What if there was a way to channel that effort into tangible improvements to everyday life? - Chris Bailey, Co-Founder
Newport Beach, CA (PRWEB) June 14, 2016
Growth Gamez, a philanthropy-focused mobile gaming startup, has released their first iPhone game, AppleSeeds (https://itunes.apple.com/us/app/appleseeds/id1102233011). AppleSeeds is a free-to-play arcade-style game with a revolutionary premise: for each zone a user completes, the company donates the money to plant a tree through Trees.org's Forest Garden Program.
Growth Gamez co-founders and Orange County natives Wilson Knapp and Chris Bailey aim to reinvent the mentality behind gaming: "Most people think videogames are a waste of time because all the effort put into a game stays inside the game. What if there was a way to channel that effort into tangible improvements to everyday life? Growth Gamez is trying to do just that: create fun games that make an impact in real life," said Bailey.
To facilitate these efforts, Growth Gamez has partnered with non-profit Trees.org for the physical planting of the trees. Since 1989, Trees.org has planted over 115 million trees all over the world, and demonstrated the transformative power of trees in helping communities break out of the poverty trap while also aiding and addressing the global environment. Trees.org educates farmers in Africa and provides the supplies needed to help build a sustainable future for families.
Growth Gamez has ambitious goals for AppleSeeds. "Our goal is to plant 1,000,000 trees through the efforts of our game's user community over the next two years," said Knapp. Knapp and Bailey have a vision and plan for additional games, each addressing a different aspect of environmental responsibility. However, they will spend the coming months building updates and promoting AppleSeeds towards their million-tree goal.
To read more about Growth Gamez, please visit http://www.growthgamez.com
To read more about Trees.org, please visit http://www.trees.org
About Growth Gamez
Growth Gamez is a philanthropy-focused mobile gaming startup headquartered in Newport Beach, CA. It offers mobile games with the premise of bringing gamers together to help charitable causes. It released AppleSeeds, its first game, in May 2016 and plans to bring more games to market in the coming years.