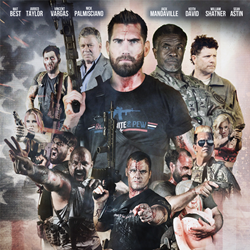 We would have let [Medal of Honor recipient] Leroy Petry accept it if he had enough hands. Just kidding. He'd kill me with one hand if he heard that.
Los Angeles, CA (PRWEB) June 14, 2016
"Shut up and start the movie!" is exactly what you want to hear when you're Brandon Millet. The raucous crowd of DC area veterans and veteran supporters were so anxious to see the world premiere of Range 15 that Millet, the founder of the G.I. Film Festival, was heckled offstage to slake the audience's thirst for this much-anticipated zombie apocalypse movie made by and for US military veterans. And it didn't disappoint. 
"Holy hell that was amazing," said retired Army Captain and founder of VetsGSA, Scott Davidson. "I was either laughing my A** off or picking my jaw up off the ground the whole time."
Written, produced and starring veterans with notable appearances by Hollywood stalwarts Sean Astin, Danny Trejo, Dale Dye and the legendary William Shatner, Range 15 is a collaboration between the two giants of military apparel and lifestyle, Ranger Up and Article 15 clothing. In 2015, Ranger Up and Article 15 collectively raised over one million dollars in crowdsourcing funds through Indiegogo from the veteran community and starting with frame one, the movie has lit every screening audience's hair on fire. Directed by Ross Patterson, Range 15 crushed the competition and easily cruised to the G.I. Film Festival's highest honor, "the G.I. Choice Award.' 
"We would have let [Medal of Honor recipient] Leroy Petry accept it if he had enough hands," Associate Producer Kelly Crigger said. "Just kidding. He'd kill me with one hand if he heard that." Petry, along with fellow Medal of Honor recipient Clint Romesha, had roles in Range 15 and another Medal of Honor winner, Flo Groberg, who hosted the cast at Walter Reed the night before, was at the premiere. "They nailed it.  That's exactly what the troops needed in a movie" he said after the showing. 
Like Shatner, Range 15 dares to go where no man has gone before. The movie not only addresses the uncomfortable elephant in the room but embraces it. Range 15 pokes fun at things the military is comfortable with, but also makes the civilian community squirm. Amputation, PTSD, indulgent officer motivational speeches, zombie children…in other words, nothing is off limits. Mary Dague, who lost both arms to an IED, played Colonel Hollway's (played by David Keith) daughter. At one point she killed a zombie with knives strapped to her stubs. If that doesn't tell you how comfortable this movie is with crossing the line, then nothing will. 
But maybe this might. At the end of the weeklong G.I. Film Festival, now in its tenth year, Range 15's "G.I. Choice Award" came by way of a trophy coveted by all in the military movie-making community. This honor is awarded to the movie that the troops love the most. G.I. Film Festival co-founder Laura Law-Millet said, "Brandon and I are so proud of the veterans behind this film. It is a true testament to what veterans can accomplish when they work together. Range 15 is destined to be an instant cult comedy classic in the military community."
Having premiered on June 3 at the Vista Theater in Los Angeles, it is evident Range 15 powered by the people and their riveting dedication to the men and meaning behind this movie. On Wed., June 15, 2016, Range 15 will release in over 550 theaters nationwide through TUGG, a social movie service that allows creators to show their film in local theaters by selling a minimum number of tickets. Fans can search TUGG for a theater nearby and purchase tickets on Range.com direct.
Follow #Range15 on Facebook.
Interview inquiries for creators and cast members can be directed to Jade Umbrella PR.