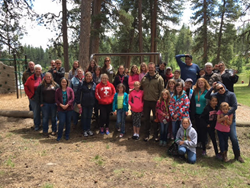 Wolf Camp is an introduction to sometimes misunderstood creatures such as bears, mountain lions, and wolves.
Winchester, Idaho (PRWEB) June 14, 2016
Guests gathered to learn from large carnivore and apex predator experts, all part of the outreach of the the town's Wolf Education & Research Center (WERC).
The event was keynoted by BBC and NatGeo film star Chris Morgan who spent two evenings regaling his experiences on seven continents as he chased a deeper understanding of all eight species of bears. A grizzly bear expert and conservationist and film star, Morgan also led an afternoon discussion with young aspiring leaders from a regional leadership development group.
In between Morgan's riveting and amusing stories were presentations by local groups such as the Idaho Black Bear Rehab, Snowdon Wildlife Sanctuary, Washington State University Raptor Club, and even a discussion about one of the world's most threatened species of wolves, the Mexican gray wolf, or lobo, given by Mexico native biologist Pamela Maciel Cabañas from Wolf Haven, International in Tenino, Washington. In addition, film producer Alan Lacy shared his experiences about filming that species in the U.S. Southwest.
Event organizer and WERC Chris Anderson comments about the international presence at this year's event, "We didn't set out to have such an international event but in the end we had an Englishman (although a US citizen), a biologist from Mexico, and even guests from as far away as Canada, Germany and Kazakhstan."
Anderson continues, "Summer Celebration is an introduction to sometimes misunderstood creatures such as bears, mountain lions, and wolves. Even birds of prey can get a bad rap when the benefit of their presence isn't well taught. That's where we come in."
Groups that attended the event included a local Girl Scout Troop, a community of families from Pasco, Washington called Tierra Vida, park guests, and friends of the organization.
In addition to the day and a half event, WERC strives to recognize volunteers and businesses who uphold the efforts of organizations mentioned in the form of the NW Wild Heritage Award. Recipients of this summer's awards included Dave and Pam Crowl of Dave's Auto Repair, schoolteacher and decade long volunteer Bud Lancaster, both from the region. They're in good company as past recipients have included East Oregonian writer George Plaven, Portland, Oregon's Dove Lewis Emergency Animal Shelter, and others.
Anderson describes the award, "It's an affirmation of people and businesses who are working to build community and realize that education, conservation and profit do not have to be mutually exclusive. We want to reward those working to make a difference. It inspires others to imagine better methods and outcomes."
"In the end, that's what the entire weekend event is about — better outcomes, especially when it comes to apex predators and those who might be introduced to a world of inspired possibilities, whether on the artistic or scientific sides, or the positions of those of us who seek sustainable solutions to great outcomes."
The Wolf Education & Research Center is open to tourism between Memorial Day and Labor Day annually and by reservation. WERC has produced two documentaries on carnivores in addition to publishing a quarterly magazine with readers all over the world. Learn more about their educational outreaches at http://www.wolfcenter.org and at facebook.com/wolfcenter.