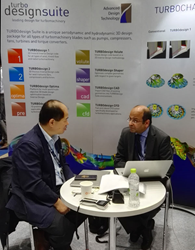 Maturing efficiency levels in turbomachinery combined with market and legislative pressures to improve performances and reliability, while reducing development costs are straining the limits of the conventional turbomachinery optimization methods
(PRWEB UK) 15 June 2016
Advanced Design Technology (ADT), a global leader in the development of advanced turbomachinery design methods and the TURBOdesign Suite are delighted to sponsor and exhibit at the ASME Turbo Expo 2016 in Seoul, South Korea on 13- 17 June. After the recent success of the 12th International Conference on Turbochargers and Turbocharging in London, ADT continues its showcase the latest release of TURBOdesign Suite 6.1.0. The new software continues to grab global headlines with the power to streamline the process of design optimization of turbocharger compressor and turbine for multiple operating points.
Now in its 61st year, ASME Turbo Expo is recognized as the must-attend event for turbomachinery professionals. The technical conference has a well-earned reputation for bringing together the best and brightest experts from around the world to share the latest in turbine technology, research, development, and application in the following topic areas: gas turbines, steam turbines, wind turbines, fans & blowers, Rankine cycle, and supercritical CO2. Turbo Expo offers unrivalled networking opportunities with a dedicated and diverse trade show floor. The 3-day exhibition attracts the industry's leading professionals and key decision makers, whose innovation and expertise are helping to shape the future of the turbomachinery industry and will feature a Student Poster Session.
"Maturing efficiency levels in turbomachinery combined with market and legislative pressures to improve performances and reliability, while reducing development costs are straining the limits of the conventional turbomachinery optimization methods" says Prof. Zangeneh, Managing Director of ADT, "3D Inverse Design approaches for turbomachinery optimization can deliver considerable reduction in development costs and times providing an ideal platform for multidisciplinary turbomachinery design and optimization compatible with industrial development standard."
ADT's specialists will be on hand to show how by using TURBOdesign Suite inverse design methods make the design process simple. See how the advanced tools within TURBOdesign Suite enable engineers to produce high-quality designs, optimise the performance of components and reduce development time.
Please contact us to arrange a demonstration of our unique 3D design and analysis codes during the exhibition, or come visit us on stand 1209.
About Advanced Design Technology, Ltd.
Advanced Design Technology (ADT) is a global leader in the development of advanced turbomachinery design and optimization methods to shorten development times and costs and improve turbomachinery performances. ADT's aim is to put designers in direct control of the aerodynamic design and to shorten the design time and time to market for a range of turbomachinery products. ADT's clients, who represent some of the leading global players in the aerospace, automotive, power generation and marine fields, have achieved significant returns on investment in for reduction in design times, higher performance and ease of know-how transfer among different design teams and projects.
For more information, call +44 (0) 20 7299 1170 or visit http://www.adtechnology.co.uk.
About TURBOdesign Technology, Inc.
Founded in 2011, TURBOdesign Technology, Inc. (TDT) is the U.S. affiliate of Advanced Design Technology (ADT), selling the TURBOdesign Suite of 3D inverse design and analysis software while providing turbomachinery engineering support services. TURBOdesign Technology headquartered in Chicago, Ilinois. For more information, call +1 347 759 6103 or go to: http://www.turbodesign-tech.com.