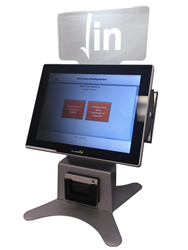 99.7% of Andrews Ortho and Sports Medicine patients use the kiosk to perform paperless check-in
Atlanta, Georgia (PRWEB) June 22, 2016
Clearwave Corporation announced today that its customer Andrews Sports Medicine & Orthopaedic Center located in Birmingham, Alabama has achieved significant results since implementing Clearwave kiosks in 2015.
Andrews Sports Medicine has been able to shorten the waiting room times for their patients by providing an average check-in of approximately 2 minutes. 30% of Andrews patients reduce their check-in times even further by using Clearwave's Express check-in, which allows for returning patients who have follow up appointments to skip over some of the typical screens.
In addition to shortening the waiting room times, Andrews Sports Medicine and Orthopaedic Center has used the patient messaging feature that Clearwave offers to improve patient communication, alerting them to specific announcements and additional services the center offers.
"Our patients often come to us with musculoskeletal issues. The last thing they want to have to do is make several trips back and forth to the front desk. The Clearwave kiosks eliminate that need and help us get our patients checked-in quickly and ready to be seen by our physicians. Both our patients and staff enjoy the benefits that this new workflow provides," stated Lisa G. Warren, Chief Executive Officer, Andrews Sports Medicine & Orthopaedic Center.
"Andrews Ortho and Sports Medicine has 99.7% of their patient volume using the kiosk to perform a paperless check-in. This is the highest percentage usage in the country which is a testament to their focus on providing a world-class experience for their patients," stated Gerard White, President & CEO of Clearwave Corporation.
The Clearwave system gives providers and patients an enhanced and more efficient registration process, including faster check-in times. The system eliminates redundant paperwork, reduces data errors and claim rejections, and provides real-time patient insurance and eligibility information. By reducing the time spent on paperwork, Clearwave allows providers to spend more time with their patients.
Clearwave's state of the art patient registration kiosks tightly integrate to any PM or HIS including: Allscripts, Athena, Greenway, GE, NextGen, Cerner, McKesson and Meditech. Data from the patient's driver's license and insurance cards is read using optical character recognition, eliminating typos and speeding up registration. Clearwave is connected to over 700 insurance companies, providing real-time insurance verification.
About Clearwave Corporation
Clearwave's mission has been, and remains, to standardize and automate administrative and patient-facing services that providers manage to serve patients, comply with federal/state regulations and maximize revenue cycle performance. Clearwave accomplishes this by aligning the provider's existing systems to communicate and gather information more effectively. This is achieved by full integration with numerous HIS, PMS and EHR software products.
For more information: (678) 738-1120 or visit, http://www.clearwaveinc.com