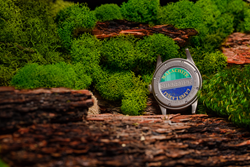 Shersher,it's not just a wristwatch.It is your everyday companiaon!
Miami, Florida (PRWEB) June 20, 2016
The SHERSHER Watch is a timepiece that gives more that just the hour of the day. With its integrated subconscious influence technology and naturally healing gemstones, this watch offers relief from the stress and anxiety of everyday life. From the vitalizing qualities of pyrite to the protective powers of malachite, these watches can be customized with the stones that best enhance the customer's psychological state-of-mind.
The SHERSHER is handmade with the finest materials and meticulous attention to detail. All of the components are made of hypoallergenic titanium with an anti-reflective, scratch-resistant crystal face and back. The movement is a top-quality Swiss-made Ronda 715 with a five-jewel and a date function at three o'clock. With over fourteen gemstones, three types of leather bands, and silicon watch bands in seven colors, the combination possibilities for customizing this watch are virtually infinite.
"One day my friend asked me why, since I've been in the watch repair business for such a long time, don't I start making my own watches. That's when I asked myself, 'Why does the world need another wristwatch unless this wristwatch could bring good to the wearer?' That's how project SHERSHER Watch began. I'm so happy to be able to share my love for watchmaking with the world and at the same time offer people something that will improve the quality of their lives." explains watchmaker and designer, Vadim Shersher.
From a very early age, Shersher became captivated by wristwatches. Twenty years ago, following a suggestion from his father, he combined this fascination with time pieces and his affinity for mechanics to start his own watch repair business. Launching the SHERSHER wristwatch brand is a natural next step on his watchmaking path. His very first line of watches have been in development for almost 16 month . After several iterations, Shersher has perfected the designs and the line is set to hit the market in September of 2016.
Numbered limited editions of the SHERSHER Watch can be pre-ordered exclusively on Kickstarter from June 15 through July 15. Natural gemstones with holistic healing properties and specially designed SHERSHER watch bands can also be ordered during this time at up to 61% off of their retail value.
kickstarter page:http://kck.st/28BfqxZ
For additional information about SHERSHER Watches please visit our website and follow us on Facebook.https://www.facebook.com/shersherwatches/