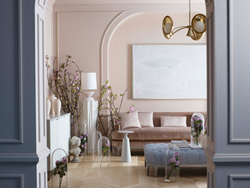 My Baker designs are 'classic contemporary' or 'futuristic-classic'," said Deniot. "I was influenced by vintage furnishings of the 20th century and by the sense of presence in grand, aristocratic decors. But I still want my designs to be timeless .
Chicago, IL (PRWEB) June 16, 2016
Baker, a leading designer and manufacturer of fine home furnishings, has unveiled its new collection by world renowned designer and architect, Jean-Louis Deniot – a breadth of work that spans an impressive 80 pieces in total, including casegoods, upholstery, lighting and accessories. The collaboration with Paris-based Deniot brings an exciting and fresh addition to Baker's acclaimed Guest Designer Series.
Recognized globally for his eclectic and emblematic interiors, Deniot draws upon his academic training to translate his designs that are both informal and bold. He does not prescribe to favoring minimalism or excess and describes his collection for Baker as classic contemporary or futuristic classic.
"We are excited to work with such a brilliant and highly coveted designer," said Gregory Heller, Vice President, Product Development, Baker. "Jean-Louis Deniot is a true global visionary, influenced by his many travels across the world, studying culture and styles. He has taken a thoughtful approach with his furniture collection for Baker, mastering the perfect blend of classic style with an approach that is modern and forward-thinking. The furniture is as aesthetically beautiful as it is comfortable. He has done an excellent job of breaking through with a fresh look for Baker while complementing our existing lines."
Deniot has spent an extensive amount of time making sure the furniture in the new Baker collection achieved appropriate balance and proportion, and is versatile to pair with contemporary, vintage or antique furnishings. Geometric shapes and curved silhouettes point to sculptural appeal, while the lighting and accessories blur the lines between artistry and furniture design. He attributes the inspiration behind his heady body of work based from his appreciation of fashion, art, architecture, nature, music and his global travels.
"I would call my Baker designs 'classic contemporary' or 'futuristic-classic'," said Deniot. "I was influenced by vintage furnishings of the 20th century and by the sense of presence in grand, aristocratic decors. But I still want my designs to have a relaxed side and a sexy elegance that make them feel timeless."
An example of Deniot's bridging of design ideals include the dining table in an organic blend of rich wood, metal appointments and dramatic proportion. A commanding 110 inches in length, the dining table boasts a top made of South American mahogany solids and quarter sawn veneers in a random lay-up. Tapered brass pedestals with an agate pattern are raised on an oversized stepped mahogany base. The table creates a space that is surely the room's focal point, taking center stage and accommodating the most elaborate of gatherings.
The ability to mix design genres is not lost on Deniot's expansive upholstered offerings. A discerning sofa draws its fresh look from 20th century design, yet has been updated to make it a chic contemporary alternative for the home. Generously sized at 99 inches in length, the sofa is expertly upholstered, a testament to Baker craftsmanship. The tight upholstered, crescent-shaped back and squared arms surround a luxurious bench seat with corners cut on the diagonal. A mahogany base – offered in Chocolate Mink, Black Mink, or Gray Mink – is raised on two paired front and single back tapered legs that terminate in a brass ferrule in a finish choice of Antique Bronze, Oil Rubbed Bronze or Antique Silver. The result is a sofa that blends beautifully in a more traditional setting and one more contemporary in design.
Bringing the collection full circle is a series of mirrors, lighting and finishes that are pure Deniot – transformative by interpretation; timeless by design. The lighting and mirrors are handcrafted throughout Italy by small, family-run craft shops. These gifted artisans create each design incorporating age-old techniques juxtaposed with modern materials. Brass, steel, alabaster, and smooth hand-blown glass are partnered with intricate water-jet designs, faceted glass, gesso, and resin in a fusion of antiquity and modernity for a 21st century statement that will never go out of style.
Finishes also play an important role in the collection, an area that Baker has again raised to new levels of expertise. The beauty of the mahogany wood in shades of Chocolate Mink, Black Mink and Gray Mink create a seductive interplay with creamy lacquers in Ivory Gloss, Dove Gloss and Ebony Gloss. Warm steel and brass shades cozy up to cool metallic hues of Oil Rubbed Bronze, Antique Bronze, Polished Steel, Polished Brass, Satin Brass, Antique Silver, and Satin Nickel finishes. This statement of contradictions is another example of Deniot's ability to draw inspiration from every angle.
"I have a connection to and a story behind every single piece," continued Deniot. "My collection represents the variation between classic-chic and cool academic that is inherent to my style. The designs have been influenced by the styles of various cities. Some have a hint of Paris, some others of Vienna, and others of Los Angeles. I am a citizen of the world in that I really embrace and love all cultures and countries I am exposed to and I think my collection reflects that."
"All the designs from my collection were done with Baker in mind, for Baker, as it is crucial that it suits the Baker aura and brand," concluded Deniot. "The pieces are not designed to impress, they are supposed to distract, to attract, and to please. There is an aspect of masculine versus feminine duality and that sensibility was respected and reflected in all pieces. I want everyone to be attracted by my collection for Baker."
The Jean-Louis Deniot Collection for Baker will be available for order through Baker Showrooms and at select dealers directly after High Point Market and more widely starting in May 2016 across the nation. For more information visit BakerFurniture.com, or follow the brand's Facebook, Twitter, Instagram and Pinterest pages.
About Jean-Louis Deniot:
Featured on the ELLE Decor and AD 100 lists of the world's preeminent talents in architecture and interior design, Jean-Louis Deniot has long been in the business of creating atmospheres. His décors are his playground, spaces where spontaneity and magic are de rigueur. Recognized worldwide for his eclectic and emblematic interiors, Jean-Louis Deniot plays in a multiplicity of repertoires, letting his academic training translate into a vocabulary that is both informal and bold.
Minimalism is not for Jean-Louis Deniot as neither is excess. Balance and osmosis is what he is after, offsetting the sometimes rigid facet of architecture with an inmost vision of refinement, comfort and openness making his creations around the world havens to revel in. For him, style equates lifestyle – it must promote harmony and wellbeing. A great enthusiast of iconic designs, his decors feature no shortage of arresting materials and textures tempered with subtle color palettes, muted tones and impeccable lighting. At the crossroads between classical terminology and contemporary aesthetics, Jean-Louis Deniot's interiors are serene, elegant and dramatic as awash with nods to other time periods, yet never typical or literal.
His past projects span houses in the Hamptons, an apartment in Chicago, chalets in Aspen, private residences in Miami, a revamped original Paul Williams property in Beverly Hills, an Art Deco city house and a palace in New Delhi, a 1930's style penthouse in Milan, a summer house in Capri, a 70's style apartment in Colombia, a private home on the Bosphorus in Istanbul and an estate in Monaco. Paris is home to several stunning achievements such as mansions and private apartments among countless others.
Jean-Louis Deniot has also earned recognition for the furniture and lighting collections in collaboration with Jean de Merry, George Smith, Collection Pierre, Pouenat, Bronze d'Art Français and more recently Marc de Berny with the Sparkx Collection. All his bespoke lines are designed in the continuity and respect of each brand's personality and style yet replete with foward-thinkingness and savory twists.
With an ambitious list of locales that resembles the index of an atlas, a few current Jean-Louis Deniot projects include private homes in Beverly Hills and San Francisco, townhouses on New York's Upper East Side, a 57 story residential tower on Biscayne Bay in Miami, two unique residences in London, houses on both sides of the Strait of Gibraltar in Tarifa and Tangiers, a stupendous city duplex and a spacious country home in Moscow, private homes in New Delhi and Chandigarh, India, family residences on Hong Kong Bay and in Bangkok, the soon-to-open Hotel Nolinski on Paris' Avenue de l'Opéra, and private residences in Paris' most sought-after neighborhoods. Adventurous by nature, Jean-Louis Deniot undertakes each project with the vigor and inquisitive nature particular to true visionaries, conceiving and defining novel design aesthetics with nuance and confidence.
Jean-Louis Deniot is proud to be regularly featured in international publications including Architectural Digest (US), AD France, AD Spain, AD Germany, AD Russia, AD India, House and Garden, Belle Australia, ELLE Decor US, ELLE Decoration in France and Russia, Marie Claire Italy, More Than Classic Holland, as well as a number of Emirates and Asian magazines, making him one of the most published designers of today.
About Baker:
Founded in 1890, Baker has been the hallmark of design excellent and uncompromising quality. The company is a division of the Kohler Co. Interiors Group, a wholly owned subsidiary of Kohler Co. Under its Furniture sector resides Baker along with The McGuire Furniture Company. Sister brands Ann Sacks Tile and Stone, Inc., Kallista plumbing and Robern mirrored cabinetry and vanities are part of the Kohler Interiors Decorative Products sector.
About Kohler Co.
Founded in 1873 and headquartered in Kohler, Wis., Kohler Co. is one of America's oldest and largest privately held companies. Kohler is a global leader in the manufacture of kitchen and bath products, engines and power generation systems, cabinetry, tile and home interiors, and international host to award-winning hospitality and world-class golf destinations.
Contact:
Mirjam Lippuner
Kohler Co.
mirjam.lippuner(at)kohler(dot)com
(920) 457-4441, x71125