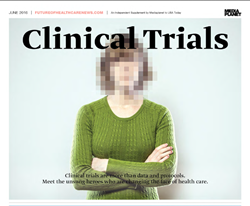 For the vast majority of people, the idea of clinical trials never enters their consciousness
New York, NY (PRWEB) June 14, 2016
Mediaplanet today announces distribution of the latest edition of "Clinical Trials," a cross-platform campaign raising awareness and educating in the common disorders and diseases associated with musculoskeletal health the across the country. Before any new medicines or treatments are released, researchers must prove its safety and effectiveness through clinical trials. In turn, this makes patient participation a key & essential step in proving a new treatment's effectiveness. However only 5% of patients actually join clinical trials, 37% of trials fail reach their recruitment goals, and 11% of clinical trials sites fail to recruit a SINGLE patient. By raising patient awareness and education about the clinical trial experience the campaign looks to bridge the gap between patients and clinical research professionals so that trials play a more active role in our society's healthcare development and new innovative treatments that help people are discovered.
"For the vast majority of people, the idea of clinical trials never enters their consciousness" Explains Ken Getz, founder and chairman of the Center for Information and Study on Clinical Research Participation (CISCRP). He goes on to say, "This rush to navigate the unfamiliar terrain of clinical trials invariably feels like an overwhelming and confusing undertaking."
The campaign also features exclusive editorial detailing clinical trials for medical devices, an industry that generates an estimated $133 billion annually in the United States. Getting such a device approved takes lots of time, work and commitment but with proper guidance it is attainable. Michael Otlewski, M.S. and Clinical Program Scientist at MED Institute explains, "You do all this testing until you're satisfied that all the risks you can think of are mitigated."
The print component of "Clinical Trials" is distributed within USA Today on June 3rd with a circulation of approximately 250,000 copies and an estimated readership of 750,000. The digital component is distributed nationally through a vast social media strategy and across a network of top news sites and partner outlets. To explore the digital version of the campaign, click here.
This campaign was made possible with the support of the Association of Clinical Research Professionals, Center for Information & Study on Clinical Research Participation, Clinical Research of Charlotte, IMS Health, MED Institute, PMG Research and many more!
About Mediaplanet
Mediaplanet is the leading independent publisher of content-marketing campaigns covering a variety of topics and industries. We turn consumer interest into action by providing readers with motivational editorial, pairing it with relevant advertisers, and distributing it within top newspapers and online platforms around the world.
Contact:
Nick Barba;
nicholas.barba(at)mediaplanet(dot)com
646-755-7966