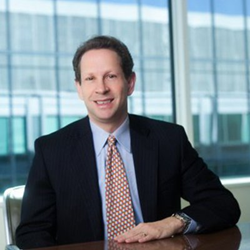 The Madoff Ponzi Scheme was the largest fraud in history and understanding its intricacies as well as the reasons why so many entities including the federal government missed the fraud can be very instructive for accounting firms ~H. David Kotz
Portland, Maine (PRWEB) June 15, 2016
Accountex USA announced H. David Kotz, the former Inspector General of the SEC, as a keynote speaker on his landmark investigation: Fraud and the Madoff Case – The Truth Behind the Madoff Scandal and Lessons we can all Learn from the Largest Fraud in History. Kotz will be delivering is keynote on Thursday, November 17th at the 13th annual accounting technology conference & expo.
Kotz, the former IG of the Securities and Exchange Commission who conducted the landmark investigation into why the SEC failed to uncover the $50 billion Bernie Madoff Ponzi scheme, will describe the details of his investigation, including his several hour interview with Bernie Madoff. Kotz will also reflect on the many additional high-profile and complex investigations he conducted while serving as IG, including his investigation of the collapse of Bear Stearns and the financial crisis. He will describe the challenges he faced while performing his work, the conclusions he drew from his investigations regarding regulatory oversight, and how to accountants can apply those lessons learned to internal investigations.
Kotz commented on his session at Accountex, "The Madoff Ponzi Scheme was the largest fraud in history and understanding its intricacies as well as the reasons why so many entities including the federal government missed the fraud can be very instructive for accounting firms."
Kotz has testified before Congress on numerous occasions, including televised appearances before the House Financial Services Committee and Senate Banking Committee regarding the Madoff and Stanford Ponzi schemes. He also previously served as Inspector General of the Peace Corps. Kotz graduated from Cornell Law School in 1990 and practiced law for large law firms in New York and Washington, D.C. for approximately 9 years before joining the U.S. Government in May 1999.
Accountex USA provides a four-day learning experience that focuses around the technology that moves accounting forward as well as the business processes and organizational success needed in the marketplace. As an independent conference, the content offers more than a single perspective on solutions. In addition, the expo brings together the largest selection of solutions and offers professionals face-to-face time to learn about the latest upcoming trends available from the innovators in technology. The conference is the premier event of the year for the accounting and financial professionals and the add-on developer community.
Additional keynote speakers include: Geni Whitehouse, CEO at Even a Nerd, Debbie Rich-Walker, Senior Finance Manager at Home Depot, Dave Kerpen, Founder and CEO of LikeableLocal and a New York Times Best-Selling Author, Joe Woodard, Founder of Woodard Events and Consulting, and Doug Sleeter, Founder of The Sleeter Group.
Accountex will be held at the Mirage Resort and Casino in Las Vegas, Nevada November 15-18, 2016. Registration is now open at AccountexUSA.com.
About Accountex USA
Accountex is the largest independent accounting technology conference and expo, leading the way for an inclusive approach to education on latest trends and technologies. Accountex publishes a content rich online magazine, the Accountex Report, which features daily articles to help move accounting forward and address common business process and organizational needs for SMB's. Accountex developed the Accounting Technology Ecosystem™ which is the leading product roadmap for an expansive marketplace of accounting and business software solutions; Accountex is the parent company of the Sleeter Group, an online community of accounting professionals, and honors both vendors and practitioners with annual awards programs for excellence. http://www.accountexusa.com.###