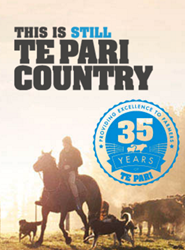 Jupiter, FL (PRWEB) June 15, 2016
Innovations w/Ed Begley Jr., announced that it will feature Te Pari Products Ltd (Te Pari) in an upcoming episode, airing fourth quarter 2016 via Discovery Channel and RFD-TV. Dates and show times TBA.
This episode of Innovations will educate viewers about Te Pari's mission to improve the safety and welfare of farming people and animals with its award winning Revolution Dosing Gun and scale system. The Revolution Dosing Gun can be used for pour on, injecting and oral dosing.
"The real need is to take the guesswork out of animal production. Precision delivery of pour on, drenching and vaccinating with Te Pari's innovative Revolution Dosing Gun helps mitigates the risk of under-dosing and costs associated with over-dosing," said Jeremy Blampied, Marketing Director from Te Pari Products Ltd. "This powered Dosing Gun is also very easy to use eliminating repetitive strain injury when dosing. The Te Pari Scale and Dosing gun is the ultimate in Precision Animal Health."
This system is an industry first that is totally unique and provides precision application of animal health products. The Revolution Dosing Gun integrates with an Electronic Weigh Scale, which calculates how much animal health product each individual animal needs. This data is transmitted via on board Wi-Fi from the scale to the Revolution Dosing gun, which then delivers a calibrated dose at the pull of the trigger based on the animal's exact weight.
"Te Pari understands how tough it is to work the land and appreciates how dangerous it can be working with livestock," said Carmen Kelp, producer for the Innovations TV series. "We look forward to enlightening audiences on the amazing things they're doing to help farmers."
About Te Pari:
Te Pari Products is a family owned and operated company based in New Zealand with distribution in Australia, UK and USA. The company started in 1980 and won an innovation award in its first year of business. That dynamic innovative streak is certainly still alive and kicking today. The Revolution Dosing Gun is a project that has been about 5 years in the making and has provided many technical challenges for the R&D team. For more information, visit: http://www.tepari.com.
About Innovations and DMG Productions:
Innovations, hosted by award winning actor Ed Begley, Jr., is an information-based series geared toward educating the public on the latest breakthroughs in all areas of society. Featuring practical solutions and important issues facing consumers and professionals alike, Innovations focuses on cutting-edge advancements in everything from health and wellness to global business, renewable energy, and more.
DMG Productions (responsible for creating the Innovations show) includes personnel specialized in various fields from agriculture to medicine, independent films to regional news and more. Field producers work closely with experts in the field to develop stories. This powerful force enables DMG to consistently produce commercial-free, educational programming that both viewers and networks depend on.
For more information visit http://www.InnovationsTelevision.com or contact Carmen Kelp at (866) 496-4065 x 850 or via email at: Carmen(at)InnovationsTVSeries(dot)com.