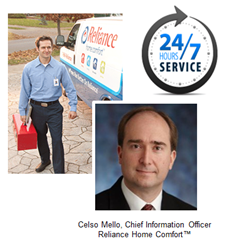 Supporting our customers requires us to have a real-time picture of the greatest risks to our systems and data – so we can take lower risk and make sure we are ready to recover faster when needed.
Toronto, Ontario (PRWEB) June 16, 2016
Trusted by more than 1.7 million homeowners, businesses, and builders across Canada to deliver year-round home comfort solutions and peace-of-mind, Reliance Home Comfort™ manages one of the country's largest and most successful HVAC and water heater businesses.
Tracker Networks is pleased to announce that Reliance Home Comfort™ has successfully implemented the AppTracker Risk Engine™, to help Reliance identify and track risks to their most critical data and technology systems.
Reliance has become an innovative user of computer technologies, to help drive its growth and support its customers in a dynamic, cross-country 7/24 service and supply business.
As a result, Reliance finds itself as the custodian of critical data assets and computer systems. Maintaining the security and integrity of this complex ecosystem is essential to the company's continued growth and success.
Reliance determined that it needed a faster and easier way to identify the greatest risks to the company's "crown jewels", so that they could be addressed proactively and so that proper recovery plans could be put in place.
Also important was ensuring that business risk maps were accurately scored and kept continuously up-to-date, along with finding an easy way to communicate risk in a manner that business executives and board members could easily understand and respond to.
This is the solution that Tracker Networks provided. The unique, patent-pending AppTracker Risk Engine™ is simple to activate and use, provides easy ways to collect application information, and updates maps and risk scores as systems evolve. A proven Fast Start implementation process gets the system up and running in as little as a few days, with limited impact to a client's resources or other projects.
"Tracking risks to crown jewel data and systems is an essential part of our cybersecurity and risk management plans," said Celso Mello, Chief Information Officer for Reliance Home Comfort. "Using the concept of Crown Jewel data and mapping risks to business functions gives helpful context to our executives and board members. It takes cybersecurity and business continuity out of a technical discussion, into one they can relate to and provide input on."
"We are proud to support Reliance Home Comfort," said Roger Mahabir, CEO of Tracker Networks, "and we are very happy to work with forward-thinking executives like Celso who share our philosophy of proactively mapping systems and data risk, and who want to drive quick and sustainable results."
About Reliance Home Comfort™
With a network of offices and subsidiaries from Alberta through Ontario, Reliance Home Comfort™, the operating name of the privately held Reliance Limited Partnership, is Canada's largest residential HVAC and water heater supply, rental, and service operation. To learn more visit http://www.reliancehomecomfort.com
About Tracker Networks
Tracker Networks Inc. is an innovative and fast growing software company headquartered in Toronto, Canada. The AppTracker™ system allows organizations to track and prudently manage the business risks that arise from computer applications and Crown Jewel data. Tracker Networks PriceTracker™ service supports over 150 manufacturers and technology organizations in Canada, the US and Europe. To learn more, visit http://www.trackernetworks.com
Contact
For Tracker Networks
Jason Doel
VP Sales & Marketing
jason(dot)doel(at)trackernetworks(dot)com
For Reliance Home Comfort™
Mike Kolatschek
Manager, Corporate Communications
MKolatschek(at)reliancecomfort(dot)com