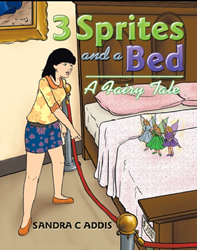 I want young girls to see a powerful character who has a positive attitude.
STRASBURG, Pa. (PRWEB) June 16, 2016
Unfortunately in this day and age, when people hear the term 'teenage girls', they immediately jump to negative stereotypes like those portrayed in "Mean Girls."
Sandra Addis was a teacher for 33 years and saw many young women grow strong, smart and cooperative as they moved on to do wonderful things. Her new book, "3 Sprites and a Bed," aims to help inspire pre-teen girls by providing them with a positive role model in main character Emily.
Emily discovers three magical sprites living in a bed she finds in an antique store. They plead for her help in saving them, but the only way she can is by buying the bed. This leads to a host of adventures for Emily, providing her with life lessons and a greater sense of responsibility. Emily must find a job, overcome unpredictable obstacles like breaking her arm, study for finals and maintain a positive relationship with her parents.
"I want young girls to see a powerful character who has a positive attitude, is cooperative, takes challenges head-on and always wants to be helpful," Addis said.
Mixing the whimsy of children's fantasy with real-world lessons prepping young women for their transition into adulthood, "3 Sprites and a Bed" aims to inspire strength, intelligence and a desire to help others.
"3 Sprites and a Bed"
By: Sandra Addis
SC-ISBN: 978-1-5035-7151-8
SC-Retail price: $31.99
E-book – ISBN: 978-1-50357-153-2
E-book retail price: $3.99
Available at barnesandnoble.com, amazon.com and Xlibris.com
About the author
Sandra Addis is a widow, mother and grandmother. She retired from teaching after an enriching 33 years working with children. She also loves the world of dramatics – a field she has worked very hard . She loves the beach, reading, writing and traveling.
###
EDITORS: For review copies or interview requests, contact:
Spencer Hotz | 317.602.7137| shotz(at)bohlsengroup(dot)com
(When requesting a review copy, please provide street address.)