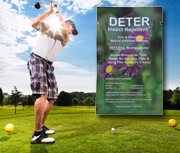 We are honored that the US Open has asked us in each of the past five years to supply insect repellent for this premier golf event. - Brad Zaro, President and CEO of Mariner Biomedical, manufacturer of Deter Outdoor Skin Protection products.-
San Jose, CA (PRWEB) June 16, 2016
Deter Outdoor Skin Protection is providing Deter Insect Repellent® for the 116th U.S. Open Golf Tournament taking place at the Oakmont Country Club in Pennsylvania from June 16 through June 19, 2016. This is the 5th year in a row organizers have asked the Company to provide insect repellent for the tournament. The company is furnishing 1,200 individually packaged wipes containing natural Deter Insect Repellent® to participants, organizers and sponsors.
Deter Insect Repellent® has been proven by independent laboratory testing to effectively repel biting insects for over 6 hours. Deter Insect Repellent® has been well received in the golfing community. It offers effective natural protection for golfers looking for a safe alternative to DEET that will not damage golf equipment. The individually packaged towelettes are convenient to carry in golf bags or pockets. In addition to golf, Deter Insect Repellent® is safe and effective for all outdoor activities, including hiking, cycling, boating, camping, backpacking and fishing.
"We are honored that the US Open has asked us in each of the past five years to supply insect repellent for this premier golf event," states Brad Zaro, President and CEO of Mariner Biomedical, manufacturer of Deter Outdoor Skin Protection products. "Deter Insect Repellent is very well suited for golfers. It provides safe long lasting protection against mosquitoes and other biting insects so they can focus on their game and not on unpleasant, and potentially dangerous, insect bites. In addition, it will not damage valuable golf equipment, a serious problem with DEET containing products. We are also excited for this opportunity to announce the unveiling of our new, and enhanced, web site which provides more information on our products and on the importance of skin protection while outdoors."
Deter Insect Repellent's unique formula was scientifically developed by a professional chemist to ensure safe long term repellency against a wide range of biting insects. Tested in the laboratory and in extreme outdoor conditions it provides ultimate outdoor protection against mosquitoes, ticks, chiggers, no-see-ums, biting flies and gnats. Deter contains a proprietary blend of 8 plant oils and plant derivatives that work synergistically to provide enhanced repellency for an extended period of time.
All ingredients in Deter Insect Repellent® are Generally Recognized As Safe (GRAS), and comply with EPA regulations as a minimal risk insecticide. Deter is biodegradable and environmentally safe. It does not contain any DEET, the active ingredient in many insect repellent products which research has shown presents health and environmental risks.
The Company also announced the introduction of its new enhanced web site http://www.deteroutdoor.com. The new web site offers an improved user experience, additional product and background information and easier navigation.
About Deter Insect Repellent®
Deter Insect Repellent® is a product of Mariner Biomedical, and is a member of the Deter Outdoor Skin Protection line. It is an effective DEET-free, natural insect repellent developed through scientific research. Deter Insect Repellent® is clinically tested safe, Dermatologist approved and proven effective by an independent laboratory. Deter Insect Repellent® repels mosquitoes, ticks, no-see-ums, biting flies and gnats for over 6 hours.
About Mariner Biomedical
Mariner Biomedical, Inc. is a bio-pharmaceutical company dedicated to developing topical skin care therapies based on scientifically validated natural and marine ingredients which are safe, effective and environmentally friendly. The Mariner Biomedical research laboratory and corporate offices are located in San Jose, CA. Mariner Biomedical has a management and research team with over 50 years of pharmaceutical, biotechnology and clinical research experience.