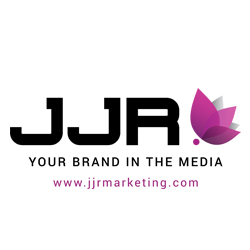 This award is very special because it showcases the ability to connect with another company that allowed us to engage and collaborate with them.
Naperville, Ill. (PRWEB) June 15, 2016
JJR Marketing, a Naperville, Illinois-based full service public relations and marketing firm, won the Silver Trumpet Award during the Publicity Club of Chicago's 57th Annual "Golden Trumpet Awards" held June 2 at The Palmer House in Chicago. The event is the most prestigious awards program for public relations professionals in the region and recognizes individual achievement in the planning, creativity and execution of public relations and communications initiatives.
The club recognized JJR Marketing and Transformational Growth Partners (TGP), a high-performance coaching firm in DuPage County, in the category of Marketing + Consumer for its work on the "Top Fuel for Life" Kickstarter campaign. The project involved a 30-day campaign to raise $47,000 in late 2014 to publish the book "Top Fuel for Life: Lessons from a Crew Chief." The book focuses on the inspiring life changing comeback of Jim "Jim O." Oberhofer, crew chief and vice president of operations for Kalitta Motorsports based in Ypsilanti, Michigan. The Kickstarter campaign met its goal and raised over $53,000. For more information, visit: https://www.kickstarter.com/projects/topfuel/top-fuel-for-life-life-lessons-from-a-crew-chief
"This award is very special because it showcases the ability to connect with another company that allowed us to engage and collaborate with them," Camacho-Ruiz said. "This Kickstarter campaign could not have been possible without the collaboration of TGP's founders Brian Marshall and Scott Garwood and their introducing Jim O. and the team to us. I think it's about the power of coming together to see something that is greater we both, at some point, didn't think we could actually do it. We came to the finish line over 100 percent of the goal."
Marshall was honored to receive this recognition along with JJR. "We knew that collaborating with JJR that we could present Jim O.'s powerful story to not only NHRA racing fans but to a larger audience," he said. "The response to the book has been great. Working with JJR has been a fruitful and positive partnership and we were thrilled to know that our collaboration was recognized by the Publicity Club of Chicago."
###
About JJR Marketing:
JJR Marketing is a full-service, award-winning marketing and public relations agency based in Naperville, Illinois. Jackie Camacho-Ruiz and Juan Pablo Ruiz and their team are passionate about taking businesses to "ascending" mode. Their integrated approach harnesses the power of their clients' brand to create leads, increase sales, drive digital traffic, tap into new markets and make things happen. That's why companies, from innovative start-ups to Fortune 500, choose JJR Marketing. JJR and Jackie have won prestigious awards from the following organizations: Publicity Club of Chicago, Clutch and Daily Herald Business Ledger's Influential Women in Business and Entrepreneurial Excellence Awards. For further information, visit http://www.jjrmarketing.com. Contact Jackie at 630-445-2333 or email at info(at)jjrmarketing(dot)com.
About Transformational Growth Partners (TGP):
AT TGP, we understand the unique situations of our clients very well. They have typically reached high levels of success in their profession and are often envied by others. On the outside, they appear to have it all, but on the inside, they struggle with the same issues as everyone else and are often unsatisfied with some current situation in business or life. They may or may not know the reason why. They may have experienced a personal or professional life-changing trauma, or they may just need guidance to reach the next level beyond success in life and business. We guide clients beyond the stated problems, which are often mere symptoms of a deeper challenge. Then we help them embrace significant change by releasing the actions, routines, and rituals from the past to embrace something new that will truly enrich their life. Regular growth is necessary to survive. Transformational Growth is necessary to thrive.
For more information, visit http://yourtgp.com/