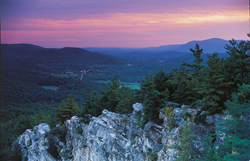 Boston, MA (PRWEB) June 15, 2016
With the summer season officially kicked off and Memorial Day behind us, The Trustees announces Hike 125, a statewide hiking challenge for Massachusetts residents and visitors looking for ideas on how to enjoy and explore some of the Commonwealth's most beautiful and scenic sites held in its care. Hike 125 is part of The Trustees' yearlong celebration commemorating its 125th Anniversary as the world's first and Massachusetts' largest conservation and preservation organization. The Trustees are presenting free and ticketed events, as well as activities throughout the year, designed to engage residents and visitors in healthy, active living and to encourage a deeper connection to nature, culture, and the bountiful splendor to be found in this beautiful state.
Hike 125 invites residents and visitors to explore The Trustees' over 350 miles of trails and 70 miles of coastline now through December 31, 2016. Visitors can log their adventures on Trustees trails at thetrusteees.org/hike125 where they can also create their own Hiker Handle and be entered to win special prizes for different levels of achievement including a stay at Trustees properties, Trustees memberships and merchandise and the potential to be featured in Trustees marketing materials. Those who reach the 125 miles will be entered to win a grand prize.
"An important part of our mission is to encourage families with children, our future conservationists, to get outside where they gain a lifelong love and appreciation for nature, recreation, and the culture that surrounds us," says Trustees President and CEO, Barbara Erickson. "With activities like Hike 125 and many others planned for the future, we look forward to welcoming even more visitors to our properties and programs this year as we celebrate 125 years of protecting and caring for special places across Massachusetts for everyone, forever."
Tracking mileage for Hike 125 is easy through popular fitness or hiking apps such as FitBit, MapMyHike, or All Trails and then logged directly on the thetrusteees.org/hike125 site. The Hike 125 site will also recognize which Trustees property you're visiting if location services have been enabled. Hikers are encouraged to share their accomplishments and photos to Facebook and Twitter directly through the site as well. All hikes that take place on Trustees properties between now and December 31, 2016 are eligible. Hikes do not need to be logged the day they took place.
The Trustees encourages hikers and walkers of all levels to hit the trail and participate. Hiking Trustees properties is more than just mountains and hills; many of the organization's historic homesteads like the Bradley Estate in Canton, farms like Appleton Farms in Ipswich, and beaches like Long Point on Martha's Vineyard and Coskata-Coatue on Nantucket also have beautiful and unique trails, which are a great way to discover a new side of a favorite place. Many Trustees properties feature easy walking footpaths and trails that are stroller-friendly as well. Visit Best First Hikes, Stroller Friendly Trails and Picnic Spots pages on The Trustees' website for more ideas on how to get started. Guided hikes and walks are also available through the Hike 125 challenge period as part of the 4,100 programs The Trustees offer each year across its 116 properties, and are another great way to get started. Upcoming hiking events will be featured on the Hike 125 web portal throughout the promotion.
Throughout this 125th year, The Trustees is hosting a variety of other public events and programs at some of its most iconic scenic, cultural, and natural sites designed to celebrate and recognize the organization's milestones, accomplishments, and impact on preserving some of the best of Massachusetts for public use and enjoyment. For those looking for volunteer opportunities, The Trustees is offering a special promotion for volunteers through May 20th, 2017, called Serve 1-2-5. All volunteers who serve at one Trustees property, for two or more hours, five separate times will receive a commemorative patch to celebrate their service and also be entered to win a variety of great prizes in periodic drawings throughout the year. For more information visit thetrustees.org/125 and sign up to volunteer at http://volunteer.thetrustees.org. When you sign up to volunteer, you'll be automatically signed up for Serve 1-2-5.
For more ideas on how to enjoy and explore the great outdoors, nature, and culture this summer, The Trustees will offering additional activities such as a 25 Things to Do Before You're 12.5 booklet featuring activities, quests and games for families to do together. Booklets will be available on Trustees properties starting in late-June. Also starting in June is Trustees BinGO 125, a game designed for those who attend Trustees events throughout the year to be entered to win one of 125 prizes. After attending a Trustees event, participants will have an opportunity to have their BinGO 125 card stickered. Once five stickers in a row are reached, cards can be mailed back in to The Trustees and entered to win. BinGO cards will available to Trustees members in the upcoming issue of The Trustees' quarterly magazine, Special Places, as well as at Trustees events throughout the state.
These experiences are designed to invite members, supporters, Massachusetts' residents and visitors to explore Trustees properties during this 125th Anniversary year and also share their stories, photos, and videos using #trustees125 when posting to social media channels. Visit thetrustees.org/125 to learn more.
###
The Trustees preserves and cares for some of Massachusetts' most treasured natural, scenic, and historic sites for public use and enjoyment. Founded in 1891 and celebrating our 125th Anniversary in May 2016, we are the world's first land preservation nonprofit and the Commonwealth's largest conservation and preservation organization. We believe in protecting the irreplaceable for everyone, forever. Our passion is to connect more people to outdoor recreation, culture, agriculture, and healthy, active living by using our 116 diverse properties, community spaces, and over 4,100 annual programs as a powerful and compelling platform. Located within minutes of every resident and visited by 1.6 million people in 2015, our properties span more than 26,000 acres across the state – from working farms, landscaped and urban gardens, and community parks, to barrier beaches, forests, campgrounds, inns and historic sites, many of which are National Historic Landmarks. In addition to our properties, we are also an active leader in land conservation. We hold conservation restrictions on more than 20,000 acres and have worked with community partners to help protect another 25,000 acres across the state. In 2014 we became a founding partner of the Boston Public Market, the first all locally-sourced indoor market of its kind in the nation where we operate our Appleton Farms vendor booth and serve as the educational programming partner for the Market's demonstration KITCHEN. Funded by our nearly 125,000 members and supporters, we invite you to get out, get inspired, and find magic in the moment at a Trustees property near you: http://www.thetrustees.org.