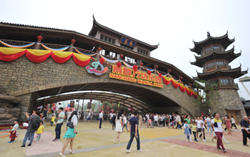 Having had the privilege of working on Wanda Movie Park in Wuhan and Dai Show Theater in Yunnan, we are honored to be involved once again in the AV installations at Wanda Group's latest mega project in Nanchang
NANCHANG, China (PRWEB) June 15, 2016
Christie®, a leader in creating and delivering the world's best visual and audio experiences, together with its Chinese partner Wincomn Technology, are offering the ultimate visual experience to visitors at the new Nanchang Wanda Cultural Tourism City located in the capital of China's Jiangxi Province.
Developed by Wanda Group, the massive 200-hectare Wanda Cultural Tourism City is the Chinese conglomerate's first city-size culture and tourism project that includes an indoor theme park (Nanchang Wanda Park), a huge shopping mall with an indoor ocean park (Nanchang Wanda Ocean Park), entertainment attractions, hotels and dining districts. The theme park features state-of-the-art multi-dimensional rides zones ranging from conventional 3D to immersive dome experiences based on Chinese cultural themes and popular folklore characters; while the ocean park boasts the world's largest indoor aquarium.
Both venues are fitted with close to 130 Christie 3DLP® and 1DLP® projectors to provide the best possible visual and immersive experience for visitors. Installed by Christie's valued partner Wincomn Technology, these include the Christie D4K3560 featuring native 4K (4096 x 2160) resolution, 35,000 lumens and smoother video at 60Hz; Christie DHD555-GS that eliminates the need for lamp and filter replacements, providing 20,000 hours of low-cost operation; as well as the Christie DWU951-Q and Christie DWU600-G which are ideal for 24/7 operation and renowned for delivering superior, dependable visual performance.
"Having had the privilege of working on Wanda Movie Park in Wuhan and Dai Show Theater in Yunnan, we are honored to be involved once again in the AV installations at Wanda Group's latest mega project in Nanchang," said Tony Chen, General Manager, Wincomn Technology. "The invaluable experiences that we gained in Wuhan have come in handy for this project and our strong collaboration with internationally renowned visual effects teams and Christie had enabled us to complete the installations ahead of the grand opening. I'm confident that visitors at Nanchang Wanda Park and Ocean Park will be thrilled with the excellent visuals presented using Christie's cutting-edge projection systems."
Lin Yu, Vice President, Christie Asia Pacific, commented, "With expertise in professional projection systems for more than 85 years, Christie has established a global reputation as the leading manufacturer of a variety of display technologies and solutions. We are therefore honored and excited to be chosen by Wanda Group to have a wide range of our advanced visual solutions installed in the new Nanchang Wanda Park, which is the first of many more such facilities scheduled to open across China in the next few years. At the same time, we're very pleased to work closely with our valued partner Wincomn Technology on the installations and look forward to transporting visitors to exciting virtual worlds where they can enjoy vivid adventures in totally immersive environments."
Among the most anticipated attractions at Nanchang Wanda Park is a spectacular new flight simulation ride named "Flyover Jiangxi" that launches guests into a thrilling immersive experience including the majestic peaks of Lushan National Park, cosmopolitan cities such as Nanchang and Ganzhou, the magnificent Yangtze River and more. This has been made possible by 8 Christie D4K3560 3DLP projectors on two domed screens.
Another popular ride, named after Chinese mythological figure Zhong Kui – the vanquisher of ghosts and evil beings – is fitted with close to 100 Christie DWU600-G and DWU951-Q projectors to create a three-dimensional virtual environment where guests can interact with and fire simulated projectiles at virtual targets to score points.
Over at the queue area, visitors can admire intricate patterns and details projected onto the surface of a huge white porcelain vase using 10 Christie DHD555-GS projectors featuring laser phosphor illumination. The projection mapping showcase is a tribute to China's porcelain capital Jingdezhen, located within Jiangxi Province, for producing the world's finest ceramic art pieces for close to 2,000 years.​
Another 12 Christie DHD555-GS projectors are deployed at Nanchang Wanda Ocean Park's full-dome auditorium fitted with a screen measuring 12 meters in diameter. The installation allows viewers to get a feel of deep sea exploration from the eyes of small marine creatures through a 360-degree seamless panoramic immersive experience.
Wanda is expected to unveil its second Wanda City in Hefei, the largest city of Anhui Province in Eastern China, this September. In addition, another five of these mega projects are planned to open within China in the next three years. By 2020, Wanda will unveil 15 Wanda City projects in China and five overseas.
About Christie®
Christie Digital Systems USA, Inc. is a global visual technologies company and is a wholly-owned subsidiary of Ushio, Inc., Japan, (JP:6925). Consistently setting the standards by being the first to market some of the world's most advanced projectors and complete system displays, Christie is recognized as one of the most innovative visual technology companies in the world. From retail displays to Hollywood, mission critical command centers to classrooms and training simulators, Christie display solutions and projectors capture the attention of audiences around the world with dynamic and stunning images. Visit http://www.christiedigital.com.
Follow us:
Twitter.com/christiedigital
Facebook.com/christiedigital
Linkedin.com/company/christie-digital-systems
Youtube.com/christiedigital
Instagram.com/christiedigital/
Vimeo.com/christiedigital
#christiedigital
Christie® is a registered trademark of Christie Digital Systems USA, Inc., registered in the United States of America and certain other countries.
DLP® is a registered trademark of Texas Instruments.