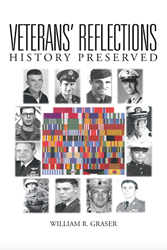 The least I can do is dedicate my time and resources to enhancing the quality of life for veterans around my community and beyond
LONDONDERRY, N.H. (PRWEB) June 15, 2016
Recruited by the U.S. Army Security Agency in 1965, William R. Graser personally experienced the sacrifices and commitments that came with being in the military. With past assignments in Korea, Vietnam, Thailand, Germany, West Berlin, and Arlington, Virginia – Graser has met thousands of men along the way. Because of this, Graser decided to write a book based on personal accounts from former veterans.
In "Veterans' Reflections: History Preserved" readers will follow 60 personal accounts provided by veterans who served during World War II, the Cold War, Korean War, Cuban Missile Crisis, Vietnam War, Korean DMZ Conflict, Operation Desert Storm, and Afghanistan: Operation Enduring Freedom.
"My book focuses on military service as seen through the eyes of veterans and is set against historical context that encompasses a period that spans more than seventy-five years," Graser said.
Even after his service, Graser continues to volunteer on a regular basis at many different Veteran groups around his community and state. In 2010, the New Hampshire House of Representatives honored Graser for his continuous volunteer work with the U.S. Army Reserve.
"The least I can do is dedicate my time and resources to enhancing the quality of life for veterans around my community and beyond," Graser said.
It is Graser's duty to make sure that veterans are not forgotten. Through the moving and emotional journey that readers will come across in "Veterans' Reflections: History Preserved," Graser hopes that individuals will gather a new understanding of war and become appreciative of all of the sacrifices.
Veterans' Reflections: History Preserved
By: William R. Graser
ISBN: 978-1-4917-7285-0
Available in softcover, e-book
Available on Amazon, Barnes & Noble and iUniverse
About the author
Sergeant First Class William R. Graser, USA (Ret), was recruited by the U.S. Army Security Agency in 1965. His assignments included Korea, Vietnam, Thailand, Germany, including West Berlin, and the US Army Security Agency's headquarters at Arlington Hall Station, Arlington, Virginia. He was awarded the Legion of Merit Medal for his service in West Berlin. Graser currently resides in New Hampshire and continues to be involved in veteran's issues, enjoys horseback riding and spending time with his grandson.
# # #
For review copies or interview requests, contact:
Katie Wenclewicz 317.602.7137
kwenclewicz(at)bohlsengroup.com