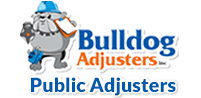 Fort Lauderdale, Florida (PRWEB) June 15, 2016
Bulldog Adjusters is currently seeking Outside Sales Representatives all over the state of Florida. Responsibilities include interfacing directly with clients to inspect and photograph damaged property, ensure all necessary documents are collected and processed, and provide customers support on an going basis throughout the claim process.
Due to the nature of these responsibilities, ideal candidates should have very strong communication and networking skills. Candidates with a strong eye for detail, construction knowledge, and the desire to help others are encouraged to apply. Representatives will be directly interacting with clients and property service companies in various capacities, so a professional demeanor is important.
Positions are available throughout the state of Florida; local travel is required. To apply, visit BulldogAdjusters.com and submit your resume. A general skills assessment is required in order for applications to be considered.
About Bulldog Adjusters
Bulldog Adjusters is a licensed public adjuster firm in Florida that has helped thousands of homeowners across the state settle property damage claims quickly and accurately. With local representatives throughout Florida, they are able to quickly assess damage, evaluate repairs costs, and ensure claims are settled in a timely manner.