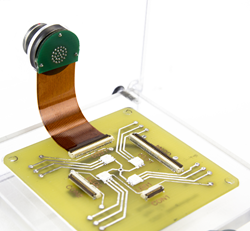 Camarillo, CA (PRWEB) June 28, 2016
ODU, a worldwide leader in designing and manufacturing high performance connector solutions and cable assemblies, is introducing to the US market printed circuit board options as part of their complete connector portfolio for vision systems.
The German company offers options for printed circuit boards as well as advanced cable assembly integrated solutions. ODU AMC®, ODU AMC® High-Density and ODU MINI-SNAP® can be terminated with PC boards, flex layers or rigid flex solutions. The solder process is tested and qualified for all available inserts. Consistent mounting dimensions enable data, power and signal transfer through multiple connectors to the same PCB board.
ODU's connector series are ideal solutions for factory automation in the automotive industry, consumer goods, general manufacturing, packaging, robotics, web inspection and also for non-industrial vision systems such as: biomedical, defense& aerospace, medical diagnostics, industrial research, surveillance and transportation.
These connectors are designed for various applications and meet some of the key market requirements for vision system as well: robust design, low weight, watertight protection, high speed data transmission, easy to use, small and compact.
ODU provides also complete cable assembly integrated solutions and overmolding for standard and custom specific applications together with custom turnkey solutions, rapid prototyping and product development, thermoplastic injection molding design and fabrication, bonding and laser etching, private labeling, all factory direct.
For additional product information go to: http://www.odu-usa.com
The ODU Company Group:
ODU is one of the world's leading connector systems suppliers and employs about 1,650 people around the world. Aside from the company headquarters in Mühldorf am Inn, the ODU Group has also an international production and distribution network in Europe, North America and Asia. ODU combines all relevant areas of competence and key technologies relating to design and development, machine tool and special machine construction, injection, stamping, turning, surface technology, assembly and cable assembly. The ODU Group sells its products around the world and has an international distribution network that includes eight sales companies in Denmark, England, France, Italy, Sweden, the USA, China and Japan, along with numerous worldwide sales partners. The ODU connectors ensure reliable transmission of power, signal, data and media in numerous demanding applications: medical technology, military and security, industrial electronics, measurement and testing and automotive technology.
For press inquiries, please contact:
Dana Stoica, Head of Marketing North America
Phone +1 (805) 484-0540 Fax: +1 (805) 484-7458
Email: dana(dot)stoica(at)odu-usa(dot)com