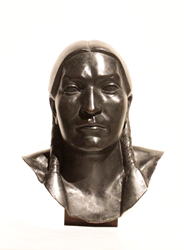 Jonthan is ecstatic. He comes from quite an amazing family, and we are thrilled to have him doing a program about his grandfather, mother, and himself - a noted artist and storyteller - on July 23, 2016 - said Lois Rudnick
Santa Fe, New Mexico (PRWEB) June 15, 2016
The exhibition Mabel Dodge Luhan & Company: American Moderns and the West, hosted by The Harwood Museum of Art and co-curated by MaLin Wilson- Powell and Dr. Lois Rudnick, has uncovered some spectacular stories and coincidences that leave one wondering if Mabel herself was behind the scenes making things happen. Amongst the stories emerge three rediscovered art treasures connected to Mabel. How they were discovered and the path the pieces took to make it to this amazing exhibition is short of miraculous, and to hear how, from Wilson-Powell and Rudnick, is a journey in and of itself.
A bust of Pedro Mirabal, grandfather of Taos Pueblo artist and illustrator, Jonathan Warm Day Coming, sculpted by Maurice Sterne, was rediscovered by Rudnick and Warm Day, while independently researching the piece. The bust, originally owned by Luhan, was shown at the Maurice Sterne retrospective at MoMA in 1933. (Sterne was the first American artist to be given a one-man retrospective at MOMA.) The piece was gifted to the Art Institute of Chicago in 1940 by Sam A. Lewisohn, a friend of Mabel's. The bronze sculpture had been sitting in a basement for over 75 years at the Art Institute of Chicago. A loan request was sent by the Harwood and initially denied because it was "not in good condition." Wondering how a bronze bust could not be in good condition, Rudnick contacted the curator who checked it out and realized it was just a matter of fixing the base. After Warm Day's and Rudnick's second inquiry, the Art Institute asked if the Harwood would like to acquire the piece. The sale was negotiated and it is now part of the Harwood's permanent collection. "Jonathan is ecstatic. He comes from quite an amazing family, and we are thrilled to have him doing a program about his grandfather, mother, and himself – a noted artist and storyteller - on July 23, 2016," said Rudnick.
Feather Dance, a major painting by Dorothy Brett was "discovered" during a research trip to the Harry Ransom Center at the University of Texas, Austin. Co-Curator, Wilson-Powell visited in September of 2014 to view an oil portrait of D.H. Lawrence by Kai Gotzsche. While she was there she noticed that a few racks away was Feather Dance. "Since the Harwood already had excellent Brett paintings in their permanent collection, I wasn't looking for more of her work," said Wilson-Powell "But, Feather Dance was such a superlative example of Brett's work, previously unexhibited and directly connected to Mabel – as well as an example of how inspiring the exuberance of Taos Pueblo ceremonial dances were to modern artists – I decided to request it for the exhibition." The painting has not been exhibited since its acquisition in 1965. It is newly reframed and has had conservation work done.
On a trip to Buffalo in 2013, Rudnick set an appointment at the Albright-Knox Art Gallery to view a Jacques-Émile Blanche portrait of Mabel and her son. The portrait was painted in 1911 and shown only once, in 1924, at the Carnegie Museum of Art. It was donated by Mabel after that show and had been sitting in storage since then. "The conservator took me to the basement, and I was astonished by what I discovered, having only seen a small black and white photo of it," said Lois. "The portrait was gargantuan, lavish, and luscious in terms of its depiction of Mabel in a Renaissance style silk and velvet, seated on an elegant carved chair in the music room of her Medicean 15th century Villa Curonia, in Florence." The painting had darkened over time, the canvas was flaking, and the gilding on the massive ornate frame was corroded. When asked if it could be repaired, the conservator stated that it would cost several thousand dollars and was not affordable to the museum. Not long after that conversation, the conservator wrote to Lois stating that a professor of conservation at Buffalo State University would take on the project for his MA students, at no cost. The Albright-Knox, Harwood, Albuquerque, and Burchfield museums all agreed to share the cost for the repair of the frame.
What you see in the final installed exhibition is only part of the story. Each object has a story that tells its journey connecting the past histories, intertwined with Mabel's fascinating life, to the current day. While the curator's job is to tell us a story through curated objects, it is often true that the back story is more interesting than you might think.
For more information on the exhibition and upcoming events, please visit http://www.mabeldodgeluhan.org.