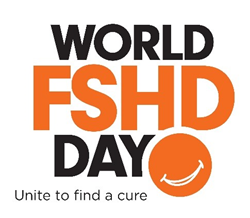 (PRWEB) June 15, 2016
The FSH Society, a nonprofit, patient-driven organization that supports research and education for facioscapulohumeral muscular dystrophy (FSHD), announces the first World FSHD Day on June 20, 2016. The day was developed in collaboration with FSHD Champions, an international alliance of FSHD advocacy organizations. Participants from across the globe will come together in various activities in an effort to raise awareness for FSHD, one of the most prevalent forms of muscular dystrophy.
On World FSHD Day, the FSH Society and its fellow FSHD Champions member organizations will ask individuals with FSHD, their families, physicians, researchers and supporters to share the World FSHD Day logo on social media as well as in a variety of activities. Other countries taking part in World FSHD Day include Italy, France, the Netherlands, Germany, Austria, the United Kingdom, Canada, Australia, Japan and China.
Participants around the world are encouraged to plan their own activities using the event toolkit.
World FSHD Day aims to raise public awareness for FSHD. Few members of the public have ever heard of FSH muscular dystrophy, and many affected individuals don't know that they have the condition. Those who have been diagnosed often don't know where to turn for help or to meet other patients. This special day will also alert physicians so they can better diagnose individuals who are displaying symptoms.
FSHD is a little known degenerative muscle disease that causes progressive weakness, usually starting with the face, shoulder, arms, legs and torso, but may affect almost any skeletal muscle in the body. FSHD affects approximately one in 8,000 individuals in the general population, or around 870,000 worldwide. There is no treatment or cure yet. Approximately one-quarter to one-third of patients end up in wheelchairs.
"This is the first time that the FSHD community has come together like this – mobilizing people from across the world, with different backgrounds, languages and experiences," said Daniel Perez, co-founder, president and CEO of the U.S.-based FSH Society. "By raising awareness, we can make sure FSHD patients and families know that they are not alone, and we can help mobilize public attention and resources to ensure a better future for everyone affected by this disease."
To learn more about World FSHD Day and to see where an event is occurring near you, visit the official World FSHD Day website. To host your own event as part of World FSHD Day, check out the event toolkit to help plan and publicize the activity, or spread the word on social media by using the event hashtags #WorldFSHD and #CureFSHD.
###
About the FSH Society:
The FSH Society is a world leader in combating muscular dystrophy. The non-profit has provided millions of dollars in seed grants to pioneering research worldwide, creating an international collaborative network of patients and researchers. The FSH Society seeks to serve as a source of information and support for all patients and families with FSHD; act as a driving force in the development of research directed towards treatments and ultimately a cure; and bring support to patients and research for FSHD through effective engagement of governmental and private sector organizations and entities. For eight consecutive years, the Society has received the Charity Navigator's four-star rating, the highest distinction held by less than four percent of non-profit organizations in the country. The FSH Society offers a community of support, news and information for FSHD patients and families through its website at http://www.fshsociety.org. For more information about FSHD, please contact the Society at 781-301-6649.
Press Contacts:
June Kinoshita
The FSH Society
781.301.6649
june.kinoshita(at)fshsociety(dot)org
Theresa Masnik
SHIFT Communications
617.779.1871
FSHSociety(at)shiftcomm(dot)com