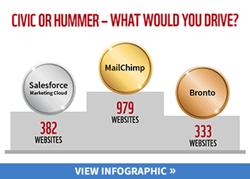 The top 10 email marketing platforms divide 75% of the ecommerce market amongst themselves.
Rochester, NY (PRWEB) June 15, 2016
The first empirical in-depth analysis of the U.S. email service provider (ESP) landscape identifies MailChimp as the market leader with a 26% market share – and finds stunning lapses in email best practices across the board.
Results highlights:

With a customer market share of 25.96% MailChimp is by far the most popular email marketing platform used by U.S. ecommerce companies – followed by Salesforce Marketing Cloud (formerly ExactTarget - 10.13%) and Bronto (8.83%).
Out of 117 total ESPs the top 10 divide 75% of the ecommerce market amongst themselves.
U.S. ecommerce companies don't select ESPs according to their class affiliation. While for instance Salesforce is more commonly used by larger corporations and the opposite is true for Mailchimp, an astonishing number of "big players" do favor Mailchimp over Salesforce.
The customer adoption rate for responsive e-mail design among the top 10 ESPs varies between 24% and 78%.
11 of the top 20 ESPs lack complete DKIM implementation; 7 of the top 20 ESPs haven't implemented "list unsubscribe" for all of their customers
These are the key findings from the newest benchmark study conducted by Publicare, an email marketing agency based in Rochester, NY working for companies worldwide with eBay being its top client.
For the benchmark Publicare analyzed 109,239 email campaigns sent by 4,166 e-commerce companies (generated by a machine-based selection from 100,000 U.S. websites with highest Alexa rank and the highest affinity score for ecommerce) over a period of 3 months. With this empirical approach Publicare has created an accurate detailed analysis of the ESP market, entirely independent of subjective aspects such as polls.
The findings suggest that many ESPs and their clients are a bit casual about deliverability best practices with a DKIM implementation rate of only 83% for one of the top 3 ESPs.
A stunning 48% of the emails received were not responsive. Considering the emphasis placed on mobile in ecommerce this indicates that mobile template technology needs to become more easily accessible.