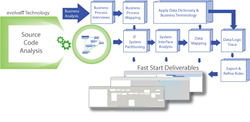 John Rhodes, CTO, said, "Customers have told CM First that app modernization efforts have been slowed or completely stymied by the scale of the problem. CM evolveIT is a proven, enterprise-grade solution that works on very large & complex code bases.
Austin, TX (PRWEB) June 15, 2016
CM First Group, a provider of IBM mainframe and midrange legacy modernization solutions, today announced that it has acquired a leading, mainframe-focused, code analysis technology, CM evolveIT http://cmevolveit.cmfirstgroup.com/. evolveIT is used as an integral part of the DevOps process by enterprise mainframe development organizations in North America and around the world. CM evolveIT will be added to CM First's portfolio of code analytics and automated code transformation products.
Understanding legacy code and business rules is vital to improving code quality, reducing development cycles and modernizing applications. Without this understanding, it is expensive and risky to take legacy applications into the 21st century by mobile-enabling them, exploiting Cloud or re-platforming these applications, where critical business rules and dependency information is typically buried in millions of lines of legacy code.
John Rhodes, CTO, said, "Customers have told CM First that app modernization efforts have been slowed or completely stymied by the sheer scale of the problem. CM evolveIT is a proven, enterprise-grade solution that works on very large and complex code bases. The payback on this technology is measured in weeks, not years. In fact, one organization reported an 80% reduction in analysis costs, and a greatly improved ability to modernize."
Christoph Heinrich, CEO said, "CM First welcomes the CM evolveIT customers and product team into the CM First family. CM First developers have plans to extend CM evolveIT's strong capabilities in new directions, including extending the value of automated analysis and transformation to new use cases and platforms."
Customers use CM evolveIT to perform the following functions:

Harvest business rules for system modernization
Perform detailed impact analysis for mass change, for example, increasing a column size
Visualize data flows and lineages
Improve code quality by managing complexity and removing dead code
Automatically document legacy systems
The new capabilities provided by CM evolveIT enhance CM First initiatives around modernization and mobile-enablement. Learn more about the core capabilities here: http://cmevolveit.cmfirstgroup.com/products/
About CM First
CM First is a global software and services company established in 1999 with a focus on modernizing applications, managing technical debt and the agile development of enterprise apps. Delivery areas include; migrations of software code, databases and IBM hardware, custom app, architecture and API development, mobility solutions and knowledge transfer. CM First works with hundreds of IBM and CA Technologies business-critical systems worldwide, with numerous reference customers covering industries as diverse as logistics, travel, insurance, food processing and oil and gas construction. For more information, visit http://www.cmfirstgroup.com
CM First Contacts
EMEA Headquarters
+41 41 508 01 05
info(at)cmfirstgroup(dot)com
Americas Headquarters
+1-512-600-1484
+1-888-866-6179
infotech(at)cmfirstgroup(dot)com
France
+33 608 504 285
infofrance(at)cmfirstgroup(dot)com