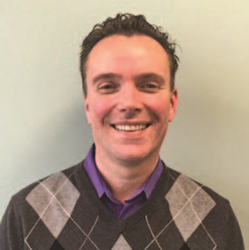 "Being a genetic counselor is a fascinating combination of genetics and psychology," says Speer. "I'm able to empower people with information, and help them come to the best decision for themselves."
Norwalk, CT (PRWEB) June 16, 2016
James Speer, M.S., a certified genetic counselor, is joining Reproductive Medicine Associates of Connecticut (RMACT), a leading fertility practice with a well-rounded pre-implantation genetic screening (PGS) and pre-implantation genetic diagnosis (PGD) program. As the medical field's understanding of genetic conditions expands and testing becomes more comprehensive, there is a growing need from fertility patients to work with a specialist to understand and consider their options.
As a genetic counselor, Speer's role is to obtain detailed health and family histories, identify conditions with genetic components and risk factors, discuss inheritance patterns, and provide information regarding genetic testing options. Once test results are attained, he will provide non-directive counsel and support to patients. Many of the patients he works with will have donor sperm or donor oocytes as part of their fertility treatment.
In addition, Speer is establishing an embryo donation program at RMACT. According to the Department of Health & Human Health Services, there are over 600,000 cryo-preserved embryos in the U.S. RMACT patients will now have the opportunity to donate their remaining embryos to the practice, which can then in turn match the embryos to screened recipients. This program will give patients who have successfully completed their family-building another option as they consider what course of action to pursue with their extra embryos, and will add to the extensive options RMACT has available for hopeful parents-to-be.
"Being a genetic counselor is a fascinating combination of genetics and psychology," says Speer, who has over 10 years of experience in the fertility field. "I'm able to empower people with information, and help them come to the best decision for themselves. I'm especially excited to start the embryo donation program because it cultivates positive energy to the practice as a whole. There are many embryos available to be donated, and many potential recipients for these embryos, so it is wonderful to be able to offer this option at RMACT."
Speer earned his Bachelor of Science in Medical Cytogenetic Technology from the University of Connecticut School of Allied Health Professions and then went on to earn his Master of Science in Human Genetics from Sarah Lawrence College. His career started as a lab technician conducting genetic research and testing. In addition to working with patients for more than 20 years, Speer has been a professor and was the Associate Director of the Joan H. Marks Graduate Program In Human Genetics at Sarah Lawrence College in Bronxville, NY. Outside of the office, Speer keeps busy as a father of four children.
"We believe that part of our responsibility as a fertility practice is to ensure that each patient is informed and supported throughout their treatment," says Dr. Mark Leondires, Medical Director at RMACT. "We want our patients to receive the best medical care and with Jamie, we have taken another step to caring for the entire patient."
About Reproductive Medicine Associates of Connecticut (RMACT)
RMACT specializes in the treatment of infertility, including assisted reproductive technologies (ART) such as intrauterine insemination (IUI), in-vitro fertilization (IVF), and Pre-implantation Genetic Screening (PGS). RMACT, Fairfield County's largest fertility clinic and egg donation center, is one of 11 leading In Vitro Fertilization (IVF) centers nationwide chosen by In Vitro Sciences to participate in its Centers of Excellence program. RMACT has offices in Norwalk, Danbury, Stamford and Trumbull, and an affiliate office now in Poughkeepsie, NY. RMACT also offers infertility treatment financing and support services, such as nutrition counseling, individual and couples psychological counseling, acupuncture and yoga, through RMACT's Integrated Fertility and Wellness Center.
The RMACT team includes lead physicians Drs. Mark P. Leondires, Spencer S. Richlin and Joshua M. Hurwitz, as well as fertility specialists Drs. Cynthia M. Murdock and Shaun C. Williams. All five physicians are Board-Certified Reproductive Endocrinologists and are members of the American Society for Reproductive Medicine (ASRM), the Society for Assisted Reproductive Technology (SART) and the Fairfield County and Connecticut Medical Societies. Each has received numerous awards, and all five are Castle Connolly "Top Doctors." RMACT's IVF laboratory is accredited by the College of American Pathologists (CAP), and CLIA; other accreditations include the Accreditation Association for Ambulatory Health Care (AAAHC) and the American Institute for Ultrasound in Medicine (AIUM). For more information visit http://www.RMACT.com or find us on Facebook.