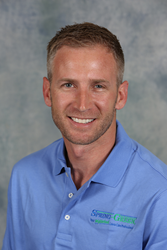 Plainfield, Ill. (PRWEB) June 23, 2016
Spring-Green Lawn Care is proud to announce its newest franchise owner Jon Thurman, of Trimworks Lawn Care and Irrigation in Springfield, Missouri. He will be taking over an existing franchise in the Springfield area.
Thurman started Trimworks in 1997. During his almost 20 years in the green industry, the married father of two focused primarily on mowing, landscaping and irrigation services. He began his career in lawn care to help him pay for college, but he found more success than he anticipated with the business. "I really didn't have any plans on doing it after graduating, but it was doing so well that it didn't makes sense to do anything else," he said. Instead, Thurman took the degree in business administration he earned and continued growing his own business.
Spring-Green appealed to Thurman because of the support and technology they offer franchise owners. "I got the sense that they were not going to let me fail," Thurman said. He also appreciated the emphasis Spring-Green places on the customer, while at the same time helping franchise owners by providing the tools they need to grow.
When Spring-Green approached Thurman about taking over the existing franchise location near him, the timing couldn't have been better. "I was looking at opportunities and considering buying another local company," he said. Although that deal fell through, he didn't consider any other large national competitors, thanks to the sense of professionalism Spring-Green gave him. "They seemed like their priorities were in the right places," he said.
Thurman knows that running two businesses at the same time could be a challenge, but he's confident that with proper marketing his customers will come to think of him as a one-stop-shop. "By taking care of my customers and emphasizing good customer service I believe it will succeed," he said.
Thurman is particularly enthusiastic about being able to move from working in the field most days to handling more sales-related issues. "I'm just excited to jump in and see the growth potential and see how many of my irrigation customers I can get to come over to Spring-Green and vice versa."
"We are always excited to welcome a new member to the Spring-Green family, especially when it is someone taking over an already successful franchise," said James Young, president of Spring-Green. "Jon is a great addition, and together I'm confident we can grow his business to the next level."
About Spring-Green Lawn Care
Founded in 1977, Plainfield, Illinois-based Spring-Green Lawn Care has been delivering lawn and tree care services nationwide for more than 39 years. Its service is centered on the beautification of residential and commercial customers in middle-class and affluent neighborhoods and communities. Spring-Green is an attractive opportunity for entrepreneurs and existing green industry business owners who want to align themselves with a business model that has proven economic resilience, healthy profit margins, industry leading business and marketing intelligence, recurring revenue and retirement and succession planning. For more information, visit http://www.springgreenfranchise.com.
Contact: The Burris Agency, Inc.
Jack Burris
704-557-0304
jburris(at)burris(dot)com
June 23, 2016