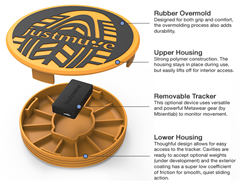 GLYDZE fitness disk users will be able to burn extra calories throughout the day without getting up from their desks.
New Brunswick, New Jersey (PRWEB) June 15, 2016
Justmüve, a start-up dedicated to delivering innovative fitness products, proudly announces the launch of their maiden product GLYDZE via Kickstarter. This product promises to be a game changer for office workers that want to stay active, but are required to sit extensively. GLYDZE fitness disk users will be able to burn extra calories throughout the day without getting up from their desks.
Experts suggest that every person engaged in office work should make an effort to move around at least once every twenty minutes. However, for tens of millions of US office workers dealing with busy and stressful environments, this advice generally isn't followed. "It is a known fact that sitting still for long hours at work can be extremely harmful to our health," noted Mike DeCesare, founder of Justmüve. "GLYDZE are designed to bring an end to this problem."
These patent pending fitness disks keep the users' legs moving while they are seated in a chair. The product facilitates heart rates in the fat-burning zone with a low-intensity effort that can be sustained for long periods every day. They can be used on any virtually surface with all types of footwear. Some of the most important features of GLYDZE include

Simple to master.
Low impact on knees and backs.
No disruption to productivity.
Requires very little space.
Burns more calories than standing.
Though a start-up, the Justmüve team has experience in bringing products from concept through manufacturing and delivery. The prototypes of GLYDZE have been put through months of rigorous testing under the guidance of medical experts, product designers, and beta testers.
"I've been using them for quite a while and I'm addicted," asserted Chad Bachman, Mechanical Engineer, Rock Brook Group and one of the beta testers. "My feet rarely stop moving. It's a great feeling."
The company has just launched a 14-day Kickstarter campaign to raise $21,000 for the successful completion of this project. Proceeds from the campaign will help them purchase the equipment necessary to mass produce GLYDZE. Additional funds will be devoted to creating an optional activity tracker that tucks neatly inside the discs, as well as an associated mobile app.
Early Kickstarter backers can pre-order this beneficial fitness accessory for a special price of $20, which includes shipping. The campaign ends June 29th. To pre-order a set of GLYDZE office fitness discs, please visit bit.ly/justmuve
Background: Justmüve is a start-up based out of New Brunswick, NJ with the sole mission of helping busy people be more active, burn more calories, and simply feel better. The company believes that adding basic, low impact, non-disruptive movements throughout the normal work day can have a positive impact on employee health and well-being, and they intend to prove it with the launch of GLYDZE office fitness discs.