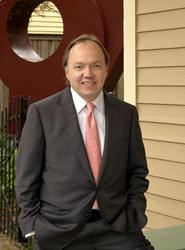 (PRWEB) June 15, 2016
Dorian M. Bennett, a Realtor of Dorian Bennett Sotheby's International Realty in the New Orleans market, has rejoined the prestigious Haute Residence Real Estate Network along with other exclusive partners, such as Jeff Hyland, Joyce Rey, and The Altman Brothers.
The Haute Residence Real Estate Network (Hauteresidence.com), affiliated with luxury lifestyle publication Haute Living, is proud to continue its partnership with Dorian M. Bennett, recognizing him as a prominent estate professional.
Designed as a partnership-driven luxury real estate portal, Haute Residence connects its affluent readers with top real estate professionals, while offering the latest in real estate news, showcasing the world's most extraordinary residences on the market and sharing expert advice from its knowledgeable and experienced real estate partners.
The invitation-only luxury real estate network, which partners with just one agent in every market, unites a distinguished collective of leading real estate agents and brokers and highlights the most extravagant properties in leading markets around the globe for affluent buyers, sellers, and real estate enthusiasts.
HauteResidence.com has grown to be the number one news source for million-dollar listings, high-end residential developments, celebrity real estate, and more.
Access all of this information and more by visiting: http://www.hauteresidence.com
Dorian M. Bennett has long been a patron and supporter of the arts. This self-described 'aesthete' majored in fine arts and Russian while in college at Tulane University and the College of William and Mary. He is classically trained in piano and played the clarinet in the school band. Additionally, he enjoys painting and pottery in the studio behind his house. Born in Hammond, Louisiana, Dorian has lived in New Orleans for over twenty years. He was unsure about what to do with his degrees when he graduated from Tulane. He knew that he did not want to translate Russian for the government and that he did not want to work for an art gallery. A friend suggested that someone with Dorian's personal skills and appreciation for antiques, architecture, and preservation would be ideally suited for the real estate business. Dorian followed this advice and a career was born. Prior to opening his own firm, Dorian worked for three agencies, honing his skills and winning numerous awards. Dorian also serves as 'Real Estate Agent to the Stars!' He has sold property to notables Lenny Kravitz, Taylor Hackford, Jimmy Buffett, and Zachary Richard. He even sold House of Blues its Decatur property.
Through his work with the New Orleans Film Commission and through word of mouth, his name has been spread around the Hollywood community. As a result, when stars come to town they often call Dorian. Dorian's appreciation of architecture and preservation is not limited to his professional career. He received a restoration award for the renovation of his Marigny office. His residence in the 'Bend of Bourbon Street' has a lot of history behind it. Built in 1825, it has been home to the son of Louisiana's first governor Claiborne, and more recently, Clay Shaw of the John F. Kennedy conspiracy theory fame. It was also featured in the book House in the Bend of Bourbon, by Terry Fletrich. Dorian says that he has always been attracted to unique and special homes.
"As special as I can afford, anyway!" he says.
Civic activities play a prominent role in Dorian's life. Dorian is currently serving on the boards of the CANO (Creative Alliance of New Orleans), Levit Pavillion in New Orleans, New Orleans Jazz and Heritage Foundation, Sculpture for New Orleans, and Tulane Alumni; and he previously served on the boards of the Contemporary Arts Center, Family Service of Greater New Orleans, French Market Corporation, Historic District Landmarks Commission, New Orleans Museum of Art, and New Orleans Opera. Dorian is also the current chairman of the Newcomb Art Gallery/Museum and the former president of the Friends of Contemporary Art of the New Orleans Museum of Art.
To learn more, visit Dorian M. Bennett's Haute Residence profile: http://www.hauteresidence.com/member/dorian-m-bennett